Q&A: An infectious disease expert's travel do's and don'ts on air travel, hotels
Part 1 with Natascha Tuznik on navigating travel during COVID-19
(SACRAMENTO)
Natascha Tuznik, assistant clinical professor of infectious diseases, is part of the UC Davis Health Travelers Clinic. She has a lot of helpful, and surprising, advice about traveling in this time of COVID-19 – or deciding to stay home. Today she answers questions about flying, hotels and more. Tomorrow, Tuznik has answers about road trips.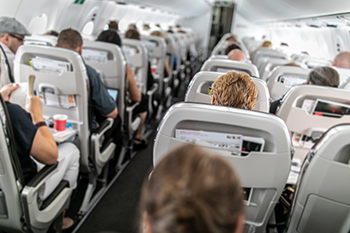 Q: What guiding principles of travel should people follow?
A: That's the question of the summer. Here is the primary thing to ask yourself: Is this travel really necessary? We all want to get away after being locked down, but if you don't need to travel, consider not doing it.
If you do go, think through your health and that of people traveling with you. Does anyone have underlying conditions? Also consider if you'll be coming home to someone with underlying conditions? Do you want to risk exposing them because you were in situations you couldn't control?
Check the health websites of the state and region you're visiting for restrictions and requirements. Some places might require a 14-day quarantine after travel.
More than ever, do your research. Check travel sites. If you see negative reviews or anything concerning, avoid that place or that area. Cross reference multiple sources to be sure you're getting the truth.
Always think about how to keep a physical distance from other people. That's still the No. 1 preventative action.
Q: What should we know about airports and airplanes?
A: This is where you definitely have to ask yourself, "Is this necessary?" You'll be in a crowded airport then stuck in a closed space for an hour, or many hours, with people who may be infected.
If you must fly:
Bring a mask and disinfectant wipes.
If possible, try to fly out of a smaller, less busy airport, rather than Sacramento or San Francisco. It might cost more but will decrease your exposure risk,
On the plane, wipe down all hard surfaces around your seat. That includes the armrests and particularly the tray and the latches – and don't feel silly about it.
Q: Are some seats safer on a plane?
A: Some reports say a window seat is probably the best because of the airflow, then the aisle, then the middle.
But the University of Pennsylvania has research that says if you're sitting within three rows of an infected person, your chances of getting infected are 80-100%. From three to six rows away, your chances of being infected are 60-70%. So, I hate to be repetitive, but do you need to do this?
Q: How safe are buses?
A: Buses may be a little better than planes because they have windows to provide some circulation. Just like on a plane, a window seat is best, or up front by the door, which brings in air.
Keep your distance in the station and on the bus – which will be challenging.
Wipe down all the hard surfaces like on a plane.
If someone is speaking very loudly, try to stay far away from them. They're known as super emitters and could be spreading more of the virus if they're infected.
Q: What should we know about staying in a hotel?
A: Once again, it starts with research, research, research. Make sure you're going somewhere that is reputable and has good reviews. You can check with them about their cleaning and safety protocols.
If you go, here's a checklist:
Bring masks, gloves and sanitizing wipes.
First thing in your room, wipe down all the hard surfaces that are most touched: tables, doorknobs, light switches, handles, the phone, and keyboards.
Pay particular attention to the bathroom, the handles, the faucets and, especially, the sink itself – it's one of the dirtiest things in a hotel room.
Ditch the bedspread and decorative pillows. The linens are laundered, the bedspreads are not.
Don't just toss your suitcase on your bed. It's probably coated will microbes. Wipe it down.
Avoid the glassware in the hotel. unless you can clean it yourself with hot water and soap.
Consider omitting housekeeping services.
Also, bring a plastic bag and put the remote control in it. It's impossible to clean a remote, so just assume it's covered with microbes.
Hotel elevators will be a challenge. Take the stairs, if you can. In elevators, try to stand six feet away, which may not be possible. If it's crowded, consider waiting for the next one. If you don't have disposable gloves, hit the buttons with your elbow or a paper towel and toss that right away.
Q: What about vacation rentals?
A: They might be a little better than a hotel room. Both Airbnb and VRBO have adopted cleanliness guidelines. Try to find a place where you have a 72-hour buffer from the previous guest. In that time, the virus will be much less viable.
If you rent, check on their cleaning protocols and the time since the last visitor. If they aren't transparent, seriously consider going somewhere else.
Clean it like a hotel room.
In Part 2, Natascha Tuznik discusses what should we know about road trips, rest stops, rafting and more.