School of Medicine adds opioid education to curriculum
UC Davis takes pioneering role among UC medical campuses to address public health crisis
(SACRAMENTO)
In an effort to better prepare tomorrow's doctors for the opioid epidemic and its devastating effect on public health, the UC Davis School of Medicine has expanded its curriculum on addiction and pain management.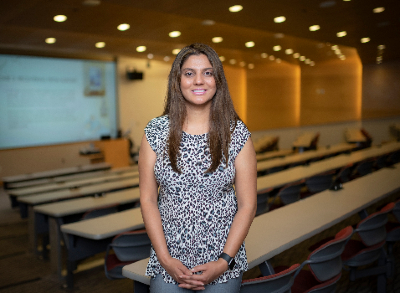 Over the past several months, pain medicine components have been added to the curriculum with the final goal of creating a formal "thread" – a topic that is interwoven throughout multiple courses, which takes several years to establish.
The revised curriculum this school year included three additional hours in the summer pharmacology course by co-instructor Elva Diaz from the department of Pharmacology and Associate Clinical Professor Naileshni Singh from Anesthesiology. The curriculum also offers content on pain pathways, a lecture on oral opioids and nerve related pain, and two hours of case-based applications on pain medicine, neuropathic pain and opioids including prescription drug abuse.
UC Davis is one of many campuses nationwide seeking better ways to train doctors to combat a public health crisis that leads to an estimated 130 deaths a day across the U.S., including overdoses of prescription drugs and illegal heroin.
Responding to a national crisis
"We are responding to the national opioid epidemic by ensuring that our graduates are equipped to both prevent and treat opioid use disorder," said Mark Servis, the vice dean for Medical Education.
As a result of the curriculum additions, he added, "every UC Davis School of Medicine graduate will have the necessary knowledge and clinical skills to reduce the morbidity and mortality of the opioid epidemic in our country."
The effort to revamp the curriculum began with Professor Scott Fishman, a UC Davis Pain Medicine specialist and national expert in that specialty. He, along with Professor and Dean Emerita Heather Young of the Betty Irene Moore School of Nursing at UC Davis, have previously published important competencies in pain medicine for nurses, pharmacists and others who will become licensed health professionals.
About three years ago, Fishman made a compelling case for substantially increasing curriculum content on pain management and responsible opioid prescribing to the Committee on Educational Policy (CEP), an initiative Kristin Olson, the associate dean for curriculum and medical education and other leaders supported.
The leaders examined how other innovative medical schools approached the topic and concluded that the necessary curriculum changes are best implemented incrementally, said Singh, who is part of the initiative.
Expanding a robust curriculum
Singh, an anesthesiologist, laid out a map of the UC Davis pain medicine and medical management of pain curriculum including the use of opioids. She assessed existing courses in physiology, addiction, alcohol abuse, pharmacology, psychiatry, neurology, rheumatology, obstetrics and gynecology, public health, doctoring and emergency medicine to discover how to add pain medicine.
"It is difficult to simply find enough time in the curricula to incorporate more hours," she acknowledged.
But Singh, who said she received "zero" training in opioid education while a medical student at Stanford University, was determined to work the topic into UC Davis' curriculum. The first steps were to expand the pain medicine offerings within pharmacology.
"Pain is an important symptom and the most common reason why someone sees their physician," Singh said. "Pain is under treated in this country and can lead to social dysfunction like depression, isolation and other issues. We attempt to overtreat pain with opioids which has partly led to the prescription opioid crisis and unintentional deaths."
As Singh continues to find more ways to incorporate opioid education into the curriculum, Servis has taken a leading role on a UC-wide effort to create a comprehensive set of "opioid competencies" for each medical campus.
The competencies cover pain medicine, substance abuse including opioids, and the public health issues surrounding opioid prescribing.
UC Davis has the most representatives on the working group, Servis said.
"I'm extremely proud of the pioneering work being done to address the opioid crisis, both within UC Davis Health and throughout the state of California," Servis said. "UC Davis is a national leader in battling the opioid crisis."
UC Davis School of Medicine
The UC Davis School of Medicine is among the nation's leading medical schools, recognized for its research and primary-care programs. The school offers fully accredited master's degree programs in public health and in informatics, and its combined M.D.-Ph.D. program is training the next generation of physician-scientists to conduct high-impact research and translate discoveries into better clinical care. Along with being a recognized leader in medical research, the school is committed to serving underserved communities and advancing rural health. For more information, visit UC Davis School of Medicine at medschool.ucdavis.edu.