Scoop Scoot ice cream race raises funds for UC Davis Child Life
(SACRAMENTO)
A hospital stay can be scary and isolating for children, but people from across the Sacramento region will have the chance to brighten those experiences for hundreds of children.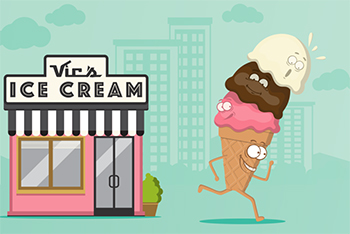 The 2022 ALCAL Scoop Scoot is scheduled for Friday, July 15 at 6 p.m. at William Land Park. The family-friendly event raises funds for organizations including the UC Davis Child Life and Creative Arts Therapy Department. The department strives to minimize the anxiety of hospitalization, illness or injury by increasing understanding and strengthening coping skills while supporting children's continued growth and development.
"We always appreciate the community support that keeps us 'scooting' along," said Diana Sundberg, manager of the UC Davis Child Life and Creative Arts Therapy Department. "Our department relies on donations to support the interventions and activities we provide. These donations make an enormous difference to the children who are receiving care."
Money raised through previous Scoop Scoot events has funded iPads, art supplies, toys and more for hospitalized patients at UC Davis Children's Hospital.
Participants can walk or run around a one-mile loop inside the park. Ice cream, a beer garden (for those 21 and older) and the course are open from 6 to 8 p.m. Participants can start any time they'd like.
Vic's Ice Cream will be available, with choices of mint chocolate chip, chocolate chip cookie dough or vanilla, topped with Ginger Elizabeth chocolate fudge sauce and/or fleur de sel caramel sauce.
Registration is $5 through July 4. Registration increases to $10 on July 5. For more information and to register online, visit ScoopScoot.org.