Second Breath redistributes medical supplies
Student-run organization reduces waste and improves lives
(SACRAMENTO)
When Andrew Li was training to be a surgeon at Harbor-UCLA Medical Center, he was stunned by the amount of medical equipment that was thrown away. Li believed there should be a way to get that equipment to people who needed it.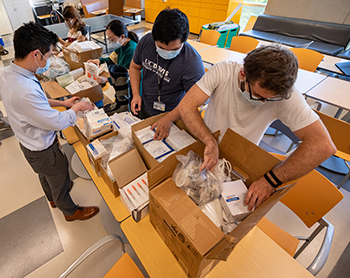 He created the answer together with global health advocate Valerie Walker when they launched Second Breath in Los Angeles.
Now, as part of the faculty of the UC Davis Health Division of Plastic and Reconstructive Surgery, Li has brought Second Breath to the Sacramento region.
The program works much like Match.com. Instead of linking people, however, Second Breath connects previously owned, unused and unexpired medical supplies to individuals or free clinics that need them. There are no costs to either donors or recipients, and the Sacramento program is run entirely by UC Davis School of Medicine student volunteers.
Li knew he had started something meaningful when he saw the volume of supplies that came in and how much of it went to low-income or elderly people. He also learned that there is healing in donating. For instance, he once received a box of tracheotomy supplies with a letter from the mom of a 3-year-old who passed away.
"She expressed such positive emotions in sharing her daughter's medical supplies and knowing they would help someone else," Li said. "It was an inspirational moment and proved for me that we were doing a good thing for both recipients and donors."
Fourth-year medical student Joshua Hwang recruits volunteers for and coordinates local Second Breath efforts, including a recent drive to collect and donate PPE to the student-run Shifa Clinic.
"It has been such an adventure for all of us to meet generous donors and provide these medical supplies throughout our community," Hwang said. "We hope to give back to our community even more in the future."
With Walker's international connections, Second Breath in Los Angeles has sent donations as far away as Haiti, Cambodia and Syria. Li hopes at some point to do the same through the Sacramento organization. His most immediate goal is to continue increasing the amount of supplies they receive and send to where they are needed in nearby communities..
The current inventory — ranging from wound dressings to PPE to respiratory equipment — is kept up-to-date on the program website. Community members and clinics are encouraged to visit regularly, as the list is updated in real time. If you have a request or equipment to donate, complete this online form or email info@second-breath.org.