Shawn Rasmussen appointed School of Medicine director of facilities
(SACRAMENTO)
Shawn Rasmussen has been appointed director of facilities for the School of Medicine, overseeing the school's facilities operations with emphasis on research, managing the space portfolio and providing recommendations to leadership for use improvements, infrastructure and design.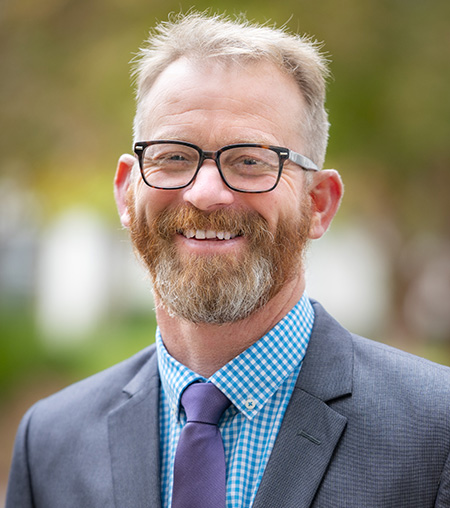 In this newly-created role, Rasmussen reports to the medical school's Vice Dean for Research, Kim Barrett, to ensure alignment with Sacramento campus planning. He oversees the medical school's facilities in Davis and Sacramento, including 340,000 square feet of space in more than 20 buildings on both campuses.
"Shawn brings more than 25 years of complex facilities and safety management expertise that will advance our multifaceted approach to facilities planning and reflects the School of Medicine's commitment to bolstering facilities management resources," said Barrett.
Rasmussen will closely partner with UC Davis facilities planning, design and construction, plant operations and maintenance, and the fire marshal, to ensure facilities remain compliant with all federal, state, local, and university policies.
Rasmussen most recently served as the School of Medicine's manager of space, facilities, and safety. His prior roles include School of Medicine facility and safety manager, and facility and safety director at the UC Davis School of Veterinary Medicine.
Rasmussen has 13 years of experience at UC Davis involving research facilities design and construction, emergency management, compliance monitoring, training, and management of biological, chemical, radioactive, and industrial hazards.
Rasmussen will work closely with UC Davis Health Facilities Design and Construction and the leadership of UCDMC Offices of Emergency Preparedness and Environmental Health and Safety to ensure safety and readiness of the School of Medicine's buildings and teams. He will also be extensively involved in planning for Aggie Square.
The School of Medicine is bolstering resources to support research facilities including recruiting for the role vacated by Rasmussen.