Special performance on Facebook Live supports autism community
(SACRAMENTO)
The Balcony theater group, in collaboration with the UC Davis MIND Institute, is hosting a Facebook Live event in support of the autism community on June 13 at 5 pm PT. The event (see flyer), streamed on the MIND's Facebook page, includes a 30-minute expert panel on building awareness around autism, followed by a 90-minute live performance of Through Andrew's Eyes, a play by Oscar Cabrera featuring neuro-diverse actors.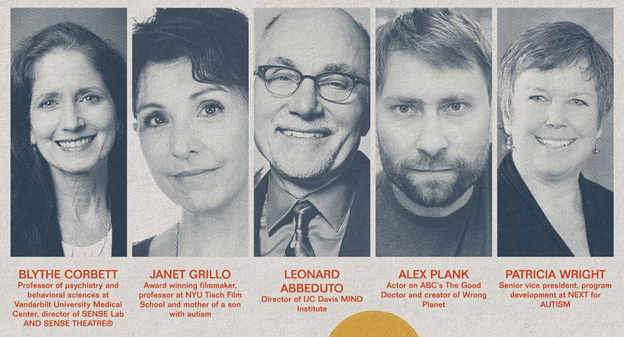 Blythe Corbett (Professor of psychiatry and behavioral sciences at Vanderbilt University Medical Center), Janet Grillo (Award winning filmmaker, professor at NYU Tisch Film School), Leonard Abbeduto (Director of UC Davis MIND Institute), Alex Plank (Actor on ABC's The Good Doctor and creator of Wrong Planet), Patricia Wright (Senior vice president, program development at NEXT for AUTISM)
The expert panel will feature:
Synopsis of Through Andrew's Eyes:
Andrew is a 22-year-old diagnosed with Autism. Andrew's family struggles to move forward, feeling limited and trapped by issues both external and internal. When Andrew's brother returns from college for the holidays, the person inside Andrew begins to speak his mind, but can Andrew be truly understood?
Through Andrew's Eyes is a story about how people transcend their differences to find common ground, love, and a shared sense of humanity.
The event is organized and produced by Nathaniel Ansbach, a native Californian actor and theater maker who co-created The Balcony, an online venue to connect theater artists around the globe. The Balcony creates in-house content, facilitates workshops, rehearsals and performances among actors, writers and directors worldwide, and shares original theater with viewers at home. It has been streaming live performances via Zoom and Instagram LIVE since March 2020.
For more information about the event, contact Nadine Yehya, nyehya@ucdavis.edu.
###
The UC Davis MIND Institute is a collaborative international research center, committed to the awareness, understanding, prevention and treatment of the challenges associated with neurodevelopmental disabilities.