Surgical and engineering researcher wins national dialysis innovation award
Funding will be used to create bio-engineered vascular grafts
(SACRAMENTO)
Aijun Wang, a UC Davis associate professor of surgery and biomedical engineering, has been awarded a $500,000 grant to create the next generation of vascular grafts for patients with end-stage kidney disease.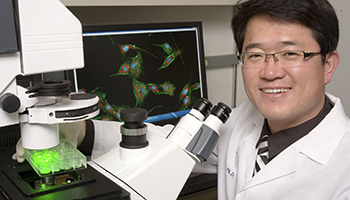 The funding, from the U.S. Department of Health and Human Services and American Society of Nephrology (ASN), will enable Wang to improve kidney dialysis. The generous award stems from the KidneyX: Redesign Dialysis Phase 2 competition, which Wang won during the recent virtual KidneyX Summit.
Wang's project aims to improve grafts that connect blood vessels and maintain the blood flow rate necessary for dialysis. Current synthetic grafts, however, are prone to failure. He plans to engineer a layer of stem cell-capturing molecules to coat the surface of the grafts, forming a "living" endothelium that functions much like a native vein. The new grafts are expected to reduce thrombosis, infection and the need for repeated replacement of failed grafts.
In the U.S., nearly 500,000 people with kidney failure must spend several hours every week connected to a dialysis machine that filters impurities from their blood. The process has changed very little in 50 years, according to the ASN. KidneyX was launched to encourage much-needed innovation in dialysis treatment.
Wang's research focuses on developing novel regenerative technologies that are transforming care for vascular disease, spinal cord injuries and birth defects. Details about his work are available online.
Read more about KidneyX here and about Wang's competition entry here.