Tupper Prize and Williams Award honor faculty for achievement
Wun and Kuppermann recognized with School of Medicine's top awards
(SACRAMENTO)
This year's top two awards in the UC Davis School of Medicine recognized the exceptional work and accomplishments of faculty members Nathan Kuppermann and Theodore Wun.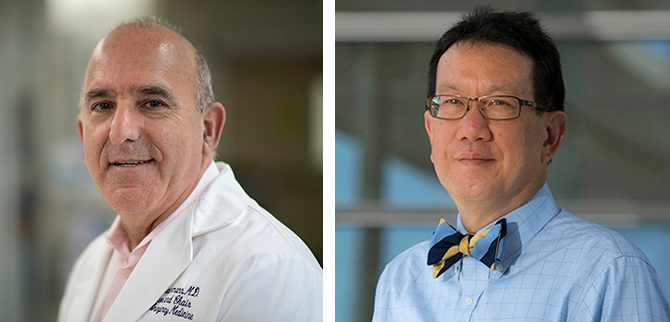 Hibbard Williams Extraordinary Achievement Award
If anyone deserves an award recognizing a broad range of public service, teaching and health research activities – efforts that bring distinction to a university and help raise its profile on the national and international levels – it is Nate Kuppermann.
The professor and chair of the Department of Emergency Medicine was honored with the Hibbard Williams Extraordinary Achievement Award for 2020. In addition to exceptional teaching, Kuppermann earned the Williams award for advancing the school's mission in ways that go well beyond education and research.
Kuppermann's contributions to medicine and science since arriving at UC Davis have been extraordinary. He was one of the four original principal investigators for the Pediatric Emergency Care Applied Research Network (PECARN). The network has become the dominant collaborative research effort in the field and has led to studies in top medical journals such as JAMA and the New England Journal of Medicine.
"[Dr. Kuppermann] has had a larger national and international impact on the field of pediatric emergency medicine than any other single individual."
Not content to rest with excellence in research in just the United States, Kuppermann was one of the founding members of the international Pediatric Emergency Research Networks. This group of volunteer researchers represents the U.S., Canada, Europe, Israel, Australia and New Zealand. His work on traumatic brain injuries, hemorrhagic torso trauma, diabetic ketoacidosis and life-threatening bacterial infections in febrile infants has established best practices for effectively treating major childhood emergencies in countries around the world.
"The effects of Dr. Kuppermann's collaborative research, education, and service have spread to improve the care of millions of children globally," said James Chamberlain, a professor at George Washington University School of Medicine and Health Sciences, who has collaborated with Kuppermann on numerous multicenter studies. "He has had a larger national and international impact on the field of pediatric emergency medicine than any other single individual."
Kuppermann is well known for being a mentor to other physicians, as well as an encouraging friend and colleague at UC Davis and beyond. He was nominated for the Williams award by the faculty of Department of Emergency Medicine. Their support of Kuppermann was echoed by a resident in her comments to the nominations committee.
"Dr. Kuppermann is the most knowledgeable, approachable, enthusiastic, and supportive department chair I have ever met," said Leigha Winters, a third-year resident in emergency medicine. "He is an amazing clinician and teacher who takes the time during every shift to discuss a pertinent, interesting and complex issue in pediatric emergency medicine. He is a wonderful mentor for a senior resident and an all‐around fantastic human being."
C. John Tupper Prize for Excellence in Teaching
This year's Tupper Prize for teaching excellence, the School of Medicine's highest award for teaching, went to Ted Wun, associate dean for research and director of the Clinical and Translational Science Center.
The award was created by the founding dean of the School of Medicine to recognize sustained and enduring contributions to education.
Wun is both a professor of clinical internal medicine and a professor of clinical pathology and laboratory medicine. He also serves as the division chief of hematology and oncology.
"Professor Wun has helped shape a whole generation of doctors and researchers through a career dedicated to teaching and mentoring. He is the best teacher I have ever had."
Wun has proven to be a highly successful, effective and well recognized educator. He has made significant strides to improve education by developing a curriculum that stimulates students. He was instrumental in helping the hematology course become one of the highest-rated courses in the School of Medicine.
Wun has long been sought after for his lectures and presentations. He has been invited to give talks to interns and residents in the Department of Internal Medicine, as well subspecialty fellows and residents outside of the department. In all settings, he is consistently rated in the top 20% of instructors.
"I have met fellows and colleagues at many renowned institutions across the country, including Stanford and Mayo Clinic, who have really appreciated his efforts in teaching," said Mrinal Dutia, a former UC Davis Health resident now working at The Permanente Medical Group in Santa Clara. "Professor Wun has helped shape a whole generation of doctors and researchers through a career dedicated to teaching and mentoring. He is the best teacher I have ever had."
A significant area of Wun's research is in cancer-associated thrombosis (CAT). He helped establish a team with international recognition as leaders in CAT. As part of that work, Wun has been instrumental in mentoring students, residents, fellows and junior faculty in their pursuit of biomedical research. Those efforts have been highly productive, with many of the scholars producing journal publications of their important studies.
Wun's engagement and dedication to education has been recognized by many people and organizations. He's received several awards, including the 1989 Harbor-UCLA Medical Center Distinguished Teaching Award, the 1993 Osler Institute Teaching Award, the 2004 UC Davis Award for Excellence in Education and the 2013 and 2017 Internal Medicine Trainee Research awards for mentoring. Additionally, Wun has been recognized nationally in hematology education.
Current and past residents have noted Wun's unique ability to be fully aware of all the patients under his care, many of whom are critically ill, while also giving new physicians the autonomy and independence for hands-on learning. They say he helps them crystalize experiential points by continuously debriefing and reflecting on each patient's case.
In messages supporting Wun for the Tupper prize, residents also said he radiated kindness and tranquility, even in the frequent chaos of the hospital. They said that in watching and listening to Wun, they found that he practices thoughtful decision making and truly cares about the well-being of each patient. It's a lesson everyone in health care can appreciate and learn from.