UC Davis Center for Virtual Care earns reaccreditation from American College of Surgeons
Rigorous, voluntary review process leads to new five-year accreditation term
(SACRAMENTO)
The UC Davis Center for Virtual Care, an innovative health care and patient simulation facility, has been reaccredited as a Comprehensive Education Institute by the American College of Surgeons — an honor bestowed on only about 90 simulation centers worldwide.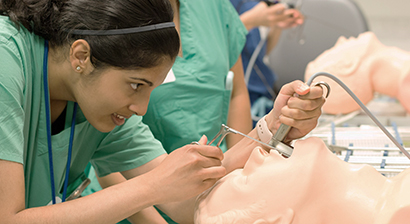 The five-year reaccreditation achievement acknowledges the Center's commitment to serving a wide range of both internal and external learners, developing original curricula, offering faculty development opportunities, assessing courses' impact on learning, patient outcomes, and safety, and engaging in research that advances the science of simulation-based education.
Ian Julie, assistant professor of emergency medicine and medical director for the Center, said the accreditation is an important acknowledgement of UC Davis' commitment to providing collaborative, team-based education and training.
"This accreditation is a testament to the creativity, hard work, innovation and dedication of our institution's teachers and learners, our commitment to our students and patients, and the remarkable staff that makes such work possible," Julie said.
The Center features a trauma bay, operating room, inpatient unit, six-bay patient ward area, task training room, technology enhanced classrooms and standardized patient exam rooms. There are several patient simulators, some with advanced lifelike physiology that can allow the practice of procedures and team interaction without threatening patient safety. In addition, the Center offers a number of surgical simulators for laparoscopic, endoscopic, endovascular and robotic training procedures for skill mastery and provider credentialing.
Edgardo Salcedo, associate professor of surgery and surgical director for the Center, said the process of attaining reaccreditation was rigorous.
"Accreditation as a Comprehensive Education Institute requires a proven record of education, a commitment to quality and promise for future innovation," Salcedo said. "We are proud to have achieved the American College of Surgeons' benchmark criteria and to be counted among other prestigious institutions bearing the same seal of accreditation."
The ACS accreditation program was established in 2005 to promote patient safety and address competencies that all surgeons and health care professionals need in order to acquire and maintain their knowledge and skills. Through the voluntary, peer-review reaccreditation process, institutions must demonstrate compliance with more than 30 criteria in four ACS standards: Learners and Scope of the Educational Programs; Curriculum Development, Delivery of Effective Education and Assessment; Administration, Management and Governance; and Advancement of the Field.
The Center for Virtual Care was commended as an "outstanding" institute, recognized for excellent performance assessments in Code Blue Team In-Situ Training Sessions. The reviewer identified these sessions as one of the Center's best practices: "In these sessions, recordings of the team's performance are captured, edited to focus on critical skills with feedback embedded, and then sent back to the learners via email for review as part of the debrief process."
Julie said these types of team trainings, featuring actual members of the health care team in their everyday environment, are a vital teaching tool.
"Working with our providers in their actual teams and areas of care allows for maximal realism and educational benefit with minimal disruption of their clinical work," he added.
The Center for Virtual Care, which is housed within the Center for Health and Technology building, was established in 2002 and has been instrumental in advancing UC Davis' educational mission of patient safety and interprofessional, quality care.
The American College of Surgeons is a scientific and educational association of surgeons that was founded in 1913 to improve the quality of care for the surgical patient by setting high standards for surgical education and practice.