UC Davis Health adapting from lessons of telehealth
Coming soon: Patient self-scheduling and video visits 2.0
(SACRAMENTO)
One of the lasting impacts from the COVID-19 pandemic and stay-at-home orders on health care was a rapid and massive shift to care for patients via video visits.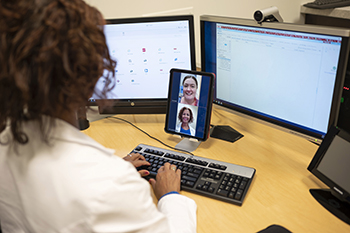 The numbers tell the story. On March 4, UC Davis Health had just 23 telehealth visits between providers and patients. Four weeks later, on April 1, health system providers conducted 1,054 visits via video, and for the entire month averaged nearly 1,100 a day.
Like so much during the pandemic, this swift adaption of technology was unprecedented. Now, as the health system continues to restore full services, the questions are: How will video visits continue to be used and what lessons were learned?
"In February, we were just trying to get people to try it," said Mark Avdalovic, professor of clinical medicine and medical director of Ambulatory Practice Innovation. "Then suddenly everyone was getting up to speed, now we're trying to optimize what we do well and improve what we can do better."
"We want the experience for patients to be excellent," he said. "We're looking at how to improve the technology and how to connect even better with our patients on a personal level."
A number of UC Davis Health groups successfully shifted at least 75% of their appointments to video visits, including dermatology, pain management, the Spine Center and the MIND Institute. Psychiatry went from 2% to 100% in three business days.
Peter Yellowlees, a professor in the department of psychiatry and behavioral sciences and the UC Davis Health chief wellness officer, was the lead author on a paper detailing his department's swift conversion. It serves as a blueprint for rapid adaptation of virtual care and was published in May by Psychiatric Services, a journal of the American Psychiatric Association. By June 1, it was one of the most downloaded papers on the journal's website.
Lessons learned
Now, his department is taking those lessons and looking ahead. Yellowlees said there are a range of appointments that are far easier for patients via video, from reviewing medications or test results to pre-surgery consults, but each department will have different abilities to use video visits. Still, the lessons apply to everyone.
"One of the clear things that struck us is how much patients like being seen like this," he said. "It saves them time, it's more convenient and it's more comfortable for them."
He said this forced conversion has been a tipping point for many providers who were either unfamiliar with the process or uncertain about the effectiveness. In fact, another major lesson is that video visits can often be just as useful as office visits.
"A lot of physicians just assume the gold standard is the in-person interview, but we've seen a number of advantages to video consults," he said. "It's very helpful to see patients in their homes. You can get them to show you around, meet their families and friends, see their photographs, see what's in the fridge. You can get to know them much better.
"It's also a more egalitarian interview," Yellowlees said. "You're on their turf. It's less intimidating for patients and they tend to be more relaxed, so they tell you more."
He said he hopes psychiatry will eventually move to about a 50-50 mix of video and in-person appointments. A UC systemwide collaborative, including UC Davis Health, seeks to have about a quarter of ambulatory appointments via video, said Rupinder Colby, program manager of Ambulatory Practice Innovation.
Video Visits 2.0
Colby said a number of improvements are on the way, including allowing patients to directly schedule their video visits.
A larger technology upgrade called Video Visits 2.0, expected later this year, will provide improved resolution, multiple connections so family and friends can join, and a self-test option for patients to assess their hardware and network.
Another key upgrade: Patients and providers will be able to use a computer for video visits. The current technology requires smart devices, which are not always available, particularly for some economically disadvantaged patients. Plus, some users find phone screens too small.
"We have gotten feedback and are now looking to address the pain points," Colby said. "One of those is that some people could not receive care because they didn't have the technology." Colby said UC Davis Health is committed "to make video visits available to everyone."
Misty Humphries, an assistant professor in the department of surgery, has a K Award to explore bringing video visits and other telehealth to rural communities. She said it's vital for their care from UC Davis Health.
"We want patients to seek the best care possible, and that's UC Davis Health," she said. "People in many communities don't want to drive for hours to see us. This provides a way to reach them and to learn about the great care we offer."
Avdalovic said Video Visit 2.0 is about improving the technology, addressing health inequities and about adapting to the evolution in health care.
The transition to video visits has been very successful, he said. "Now, we want to be sure everyone has access to the technology and to UC Davis Health. Both patients and providers are learning that doing video is just a part of everyday care. We want our patients to feel absolutely comfortable with video visits so we can interact with them in the best way possible."