UC Davis Health degree programs top Best Jobs for 2021 list
Physician assistant and nurse practitioner professions offer growth potential, work-life balance and good salary
(SACRAMENTO)
The Best Jobs for 2021 are out and two degree programs at the Betty Irene Moore School of Nursing at UC Davis top the list.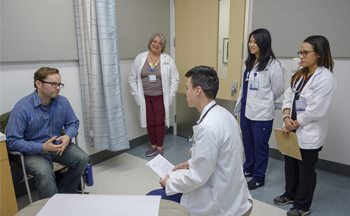 According to the annual ranking by U.S. News & World Report, the physician assistant (P.A.) profession is No. 1 in the Top 100 Best Jobs and the Best Health Care Jobs. The nurse practitioner (N.P.) profession is close behind, landing at No. 3 for all professions and No. 2 in health care.
The Betty Irene Moore School of Nursing is one of the only schools in the nation to prepare students for both of these health professions. Additionally, the P.A. and N.P. students learn together in a collaborative, interprofessional environment.
"For me, what makes being a P.A. so awesome is versatility," said Teresa Thetford, a P.A. and assistant director for the School of Nursing's P.A. program. "Because of the P.A. education model, P.A.s have clinical rotations in all areas of medicine and the national board exam covers all body organ systems. Therefore, a P.A. can easily change from one specialty to another without additional formal education."
At a time when health care is more critical than ever, 15 of this list's top 25 are health care occupations. Medical and health services manager and physician round out the top five.
To identify professions for the 2021 rankings, the publication started with jobs that have the largest projected number and percentage of openings from 2019 to 2029, as determined by the U.S. Bureau of Labor Statistics. Other attributes factored in include jobs that:
pay well
consistently challenge
match talents and skills
offer room to advance
provide a satisfying work-life balance.
"The N.P. profession is appealing because it offers intellectual challenge, ample opportunity to autonomously work with patients across a variety of settings and the ability to participate in creative disruption to effect system change to improve population health and patient outcomes," added Kathryn Sexson, a family nurse practitioner and director of the School of Nursing Family Nurse Practitioner Program. "It brings me great joy to watch people learn about how to protect their health and manage their disease where they possess the ability to take care of themselves."
N.P.s and P.A.s are advanced practice providers, clinicians with advanced degrees who are qualified to take on some of the roles traditionally assumed by physicians and also play an important role in value-based care and treatment.
The School of Nursing has prepared future N.P.s and P.A.s at the master's-degree level since 2013, when the then-certificate program transitioned from the UC Davis School of Medicine. The School of Nursing has graduated more than 330 providers through its interprofessional programs. They join the roughly 1,800 certificate alumni and continue a nearly 50-year tradition of preparing primary care providers for rural and underserved communities.