UC Davis Health executive director earns 40 Under 40 award
Former team member also receives recognition
(SACRAMENTO)
The Sacramento Business Journal announced its annual 40 Under 40 honorees, and this year's list includes both a current UC Davis Health representative as well as one former member of the team.
Kristin Mensonides serves as the Executive Director of Oncology Services, a role that she has served in for four years.
After obtaining her Bachelor of Science in business administration and management, Mensonides obtained her master's in healthcare administration from Washington University in St. Louis School of Medicine and a master's in legal studies, healthcare law from the University of Oklahoma College of Law. Mensonides started her career in St. Louis at BJC Healthcare before joining the Cleveland Clinic in 2008. In 2012, she relocated to California and pursued an opportunity with Sutter Health, where she spent time as an administrative director of ancillary services, the manager of the Cancer Center and LEAN Executive.
She joined UC Davis Health in November 2017.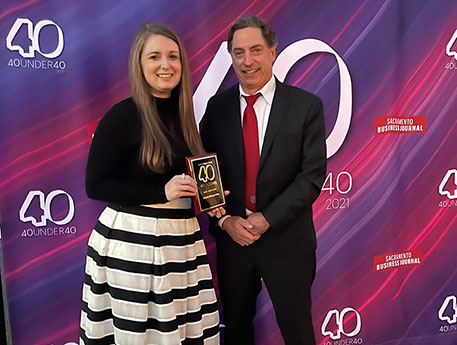 "Kristin exemplifies true leadership by combining sharp managerial skills with the compassion required of the executive director role at the cancer center—whether it is with staff or patients," said Richard Bold, physician-in-chief of the UC Davis Comprehensive Cancer Center. "She is dedicated to our cancer fighting mission and works tirelessly to advocate for the necessary resources for our healthcare provider to provide the best treatment possible to our cancer patients."
This year's 40 Under 40 group also includes a former UC Davis Health nurse. Carter Todd graduated from the Betty Irene Moore School of Nursing master's degree leadership program and spent five years as a Clinical Nurse II-Pediatric ICU at the UC Davis Medical Center.
Todd continues to work in the area as an Assistant Nurse Manager and is both a founding member and president of the Capitol City Black Nurses Association.
UC Davis Health would like to congratulate Mensonides and Todd for earning 40 Under 40 honors, recognition that is well deserved for their hard work on behalf of the organization and outside endeavors.