UC Davis Health expands neonatology services at Adventist Health and Rideout's NICU
(SACRAMENTO)
UC Davis Health is pleased to announce a new partnership with Adventist Health and Rideout (AHRO) that expands neonatology services at AHRO's Neonatal Intensive Care Unit (NICU), effective Feb. 3, 2020.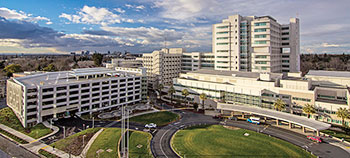 The new neonatology partnership brings the world-class care of UC Davis Health to the Marysville area, offering UC Davis neonatologists on site for critically ill and premature babies and establishing a 24-hours-a-day, seven-days-a-week instant connection to UC Davis pediatric specialists. UC Davis Children's Hospital was ranked 30th in neonatology nationally by U.S. News & World Report's 2019-2020 Best Children's Hospitals rankings.
"This partnership with UC Davis is yet one more step Adventist Health is taking to bring high-quality care to Marysville," said Rick Rawson, president of Adventist Health and Rideout Medical Center. "Leveraging the expertise of UC Davis neonatologists so families can access the care they need without having to leave the area is an exciting step in our journey to transform the health of our community."
The team uses leading-edge technology to help families stay in their communities through tele-neonatology consults. The UC Davis Pediatric Telemedicine program was the first of its kind in the United States, providing physicians and patients with real-time remote consultation and evaluation through interactive, high-definition video and audio communication.
"When a baby needs care in the NICU, I see how difficult it is for a mother to be separated from her new baby. I feel privileged to better support these babies and their families in Marysville with a high level of care, close to home," said UC Davis neonatologist Deepika Sankaran who is on staff at AHRO. "We are collaborating with local providers and helping to lower the number of patient transports to Sacramento."
"We had our first telemedicine consult with AHRO and it went very well. We were able to successfully provide the care the baby needed and keep the patient in Marysville," said UC Davis neonatologist Payam Vali. "We are committed to utilizing the technology of telemedicine to provide specialty care to the patients and families we serve in this region."
AHRO delivers about 2,000 babies per year and currently has a six-bed NICU. With the new partnership, offering UC Davis Health's multi-disciplinary resources and expertise, AHRO is in the process of applying for California Children's Services (CCS) designation as a level II (Intermediate Care) NICU.
UC Davis Health is a nationally-ranked leader in teaching, research and health care delivery, and the UC Davis Medical Center is one of the top five hospitals in California, as ranked by U.S. News & World Report. UC Davis Children's Hospital offers the broadest range of pediatric specialty care in the region, and in 2019, it was re-verified as a Level I Children's Surgery Center by the American College of Surgeons. As an academic medical system, UC Davis Health has an important social responsibility to both discover and share knowledge that advances health and health care delivery.
Adventist Health and Rideout is part of Adventist Health, a faith-based, nonprofit integrated health system serving more than 80 communities on the West Coast. The hospital in Marysville provides acute care services, emergency care, heart, vascular and stroke care, women's health services, senior care, skilled nursing care, Alzheimer's, dementia care, assisted living and cancer care affiliated with UC Davis Medical Center. Adventist Health and Rideout employs more than 2,100 employees and has approximately 349 physicians on the medical staff.