UC Davis Health honored with multiple Practice Greenhealth awards for environmental excellence
(SACRAMENTO)
UC Davis Health was recently honored by Practice Greenhealth for its progress on environmental performance and sustainability.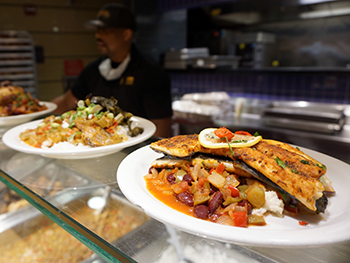 In bestowing the 2020 Environmental Excellence Award, Practice Greenhealth cited UC Davis Health's innovation, initiative and leadership. Practice Greenhealth is a nonprofit organization based on the principles of environmental stewardship and best practices in the health care community.
"We want to make sure you are recognized for the impactful sustainability work you pursued over the last year – and are looking forward to shining a light on your achievements," wrote Cecilia DeLoach Lynn, the director of sector performance and recognition for Practice Greenhealth, in the announcement.
The specific accolades include:
The Emerald Award for UC Davis Health's commitment to improving its environmental performance and its efforts in achieving a top standard of excellence in sustainability.
The Greening the OR Recognition Award that recognizes hospitals that significantly improved environmental performance in the operating room.
The Circles of Excellence honor is given to 10 of the highest performing hospitals nationwide in each area of sustainability expertise. Winners must achieve the Greenhealth Partner for Change Award, and in this category UC Davis Health was awarded the Circle of Excellence on Food and the Circle of Excellence in Green Building.
As a "top 10" Food Circle awardee, UC Davis Health has demonstrated noteworthy programming in meat reduction, procurement of better meat, local and sustainable sourcing, improving access to tap water and healthy beverages, supporting healthy food access and preventing food waste.