UC Davis Health named to governor's Task Force for COVID-19 testing
Associate Professor Nam Tran will represent UC Davis, which will become a high-volume testing hub
(SACRAMENTO)
UC Davis Health is honored to be part of Gov. Gavin Newsom's COVID-19 Testing Task Force, a public-private collaboration to more quickly increase coronavirus testing capacity.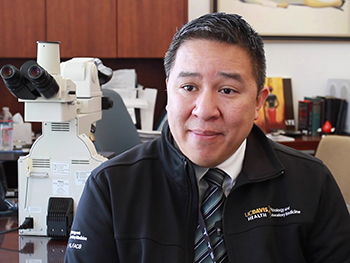 Nam Tran, associate professor of pathology and laboratory medicine and senior director of clinical pathology in charge of the COVID-19 testing at UC Davis Health, is a member of the task force, which was announced over the weekend.
"UC Davis is pleased to partner with Gov. Newsom on this important effort to increase testing capacity for Northern Californians," said Allison Brashear, dean of the UC Davis School of Medicine. "The experts in our medical school's Department of Pathology and Laboratory Medicine and other disciplines have worked together to enable UC Davis School of Medicine to contribute meaningfully to the governor's priorities and the public health needs of the state."
UC Davis Health leaders began expanding testing capacity in December. UC Davis Health is currently able to run about 400 tests daily, as of today, with same-day results for UC Davis patients. The Clinical Laboratory plans to expand into a high-volume testing hub shortly, to run some 1,000 tests per day, and possibly more, with the necessary reagents for test processing. As one of the state's testing hubs, UC Davis is proud to help lead the way in public health.
As a top-ranked academic medical center, UC Davis Health in a powerful position to take a leadership role in speeding-up coronavirus testing capabilities, initiating clinical trials to treat COVID-19 and working on developing a coronavirus vaccine. Collaboration between experts at UC Davis Health and UC Davis – including physicians, clinical pathologists, researchers, scientists and veterinarians – can lead to solutions to improve public health.
Leaders throughout UC Davis Health are setting state and national standards for responding to COVID-19.
Read more here
.
Priority for coronavirus testing is usually given to people who are in close contact of someone with COVID-19, develop symptoms of COVID-19 or reside in a "hot spot" community that has ongoing spread of infection. People who meet these criteria are encouraged to call their health care provider to discuss their symptoms and exposure. Medical providers are equipped to best determine who needs the test. There is no treatment for COVID-19 and people who are mildly ill may be able to isolate and care for themselves at home.
Here's a fact sheet and downloadable video about our COVID-19 testing lab.