UC Davis Health nurse chosen for NASA's yearlong Mars analog mission
(SACRAMENTO)
Ever wonder what it would be like to live on Mars? Soon, UC Davis Health Advanced Practice Nurse Alyssa Shannon will have a pretty good idea. She was selected to take part in a one-year analog mission to simulate living on Mars for NASA.
Shannon will join three other crew members for NASA's Crew Health and Performance Exploration Analog (CHAPEA) mission, the first of three planned one-year Mars surface simulations. The crew will simulate the challenges of a human mission to Mars, including resource limitations, equipment failure, communication delays, and other environmental stressors.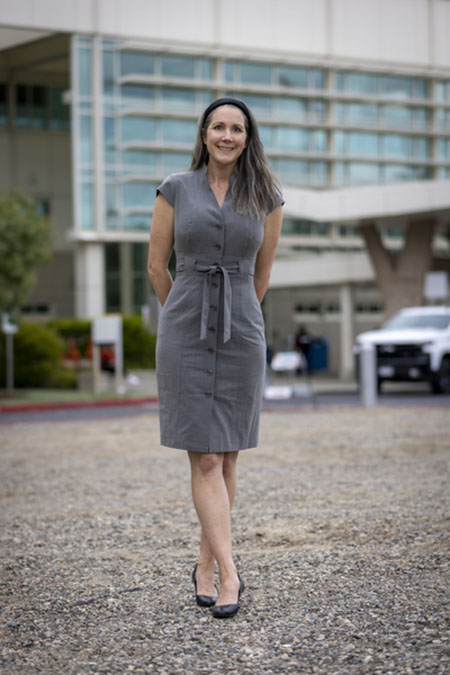 "Research gained during the CHAPEA mission will be used by NASA to inform risk and resource trades to best support crew health and performance while living on Mars," Shannon explained. "This research will provide their experts with valuable information that will help future Mars missions succeed."
CHAPEA is a ground-based mission, set to begin in June at NASA's Johnson Space Center in Houston. During the mission, crew members will live and work in a 3D-printed, 1,700-square-foot habitat. It includes private crew quarters, a kitchen, living areas, work areas and two bathrooms. There's also a 1,200-square-foot "external" environment complete with Mars murals and red sand. There, the crew will conduct simulated spacewalks accompanied by virtual reality.
Shannon will serve as the crew science officer during the mission.
"As science officer, I will be working in a small lab in a resource-restricted environment," Shannon said. "I will have to navigate communication challenges, including time delay communication with NASA and equipment failures that astronauts might experience on Mars."
Shannon will rely on her experience as an advanced practice nurse with interventional cardiology and cardiothoracic surgery. In her role, she leads continuous quality improvement projects, provides data management and data analysis.
Shannon first heard about the CHAPEA mission in August 2021 on a radio commercial. When she realized she fit all the criteria NASA was looking for, she decided to apply.
"I was genuinely surprised to make it through the selection process," she said. "When I was a child, I dreamed on being a colonist on Mars — obviously this hasn't happened, but I am so excited to participate in this way."
Shannon leaves for Houston on May 24 to begin training for the CHAPEA mission and will not return home until July 2024.
While 12 months might seem like a long time to spend in a Mars habitat, astronauts who travel to Mars will likely have to endure being away from home for much longer. A round-trip journey from Earth to Mars will take an estimated 21 months, given the time it takes to travel between the two planets, plus waiting for their alignment to be just right for the return.
"The time away will be hard, but the bigger mission is being able to help provide this invaluable research for space travel," added Shannon. "In the future when humans actually land on Mars it will be so fulfilling to know that I played a small role in helping us get there."
Follow Shannon's experience during the CHAPEA mission on the Johnson Space Center's Instagram, Facebook and Twitter pages.