UC Davis Health professor named City of Davis Citizen of the Year
Jann Murray-García honored for promoting race and social justice in community
(SACRAMENTO)
Jann Murray- García's contributions to the city of Davis are many – and they're being recognized.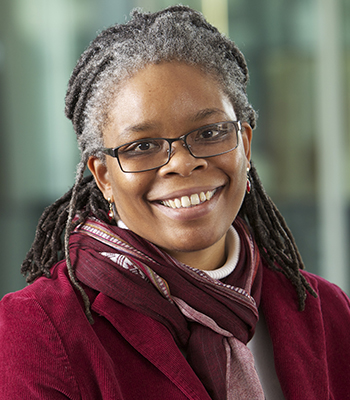 Addressing racial disparities in achievement and discipline in a high-performing school district. Facilitating the introduction of curricula from new historical perspectives as an alternative to traditional U.S. History. Inspiring a community to embrace social justice, including in its community-police relations.
These are just some of the reasons Jann Murray-García's earned the City of Davis' C.A. Covell Award, more commonly referred to as 'Citizen of the Year.' Murray-García is a pediatrician and associate clinical professor at the Betty Irene Moore School of Nursing at UC Davis.
The Covell Award dates back to 1944, when longtime Davis Mayor, C.A. Covell, was recognized for civic leadership, unselfish service to community and reliable follow-through on commitments. Kevin Williams, the Davis High School history teacher who created the Davis High course, "Race and Social Justice in U.S. History," and Hiram Jackson, a longtime volunteer in the Davis school district, nominated Murray-García. They believed she was deserving of the honor "for her sustained volunteer work to promote platforms for positive discussion of race and social justice in our community."
In 2002, Murray-García organized community forums to respond to local incidents of racist behavior within Davis schools and in the community. With the organization Youth-In-Focus, Murray-García trained high school students to conduct research to examine racial disparities in students' experiences.
She also mentored young people to help them create a college prep-level U.S. history course at Davis High about race relations and the quest of both white and non-white ethnic groups for social justice. From this came an award-winning, youth-directed documentary film that tells the 10-year story of the Race and Social Justice class at Davis High School. The film was funded by the Sierra Health Foundation and Teaching Tolerance. "The film remains a powerful teaching tool for my UC Davis Health graduate students, reminding some of how they too 'learned race' in America's schools, while they were children and teens," Murray-García said.
Murray-García is the co-founder of Cultural Humility, an internationally recognized approach to equitable and culturally respectful patient care. That commitment lies at the core of her relationship with UC Davis Health. A member of the School of Nursing's founding faculty, she teaches graduate students about health inequities in historical context, in hopes of equipping them to transform systems and see the entirety of people who come seeking health care treatment and guidance.
As director of social justice and immersive learning at UC Davis Health's Office of Health Equity, Diversity, and Inclusion, Murray-García currently tackles racism by giving nurse leaders tools to address discrimination. A new collaboration between UC Davis Medical Center and the School of Nursing includes a culture focused on relationships and ongoing learning, as well as Murray-García's anti-racism and cultural humility training.
Murray-García's desire to deepen future health care professionals' understanding resulted in an ongoing interprofessional bus tour down Highway 99. Since 2017, groups of students, staff, and faculty from the Betty Irene Moore School of Nursing, the UC Davis School of Medicine, the UC Davis School of Law and the UC Davis School of Education have made the overnight trip, along with Sacramento community members. The route includes stops at community centers, health organizations, prisons and historical sites.
"Jann has managed to weave personal passions, historical injustices and societal challenges into an immersive learning environment that changes those who experience it for the better," explained Stephen Cavanagh, nursing school dean. "Her insight has been ahead of the curve and now the rest of the world has caught up to the lessons she teaches and we, as a society, so desperately need to understand. This recognition is well deserved."
In January 2020, before social distancing guidelines due to the coronavirus pandemic, she invited the leadership team of UC Davis Health for an afternoon to learn, first-hand, the geography of health disparities in Sacramento, including its still marginalized redlined neighborhoods. The van tour started in the Oak Park Community, a few blocks from the UC Davis Health campus, and continued to New Helvetia, parts of downtown Sacramento and Del Paso Heights. The leaders got out and spoke with community members, who gave them a greater understanding of their attributes and challenges.
"Jann has shown us the incredible common ground we all share despite our race or ethnicity. Her deep knowledge of local past injustices to minority communities helps inform today's decisions, to make them both more effective and more culturally aware. This supports our efforts as we engage with the local community on the common goals of equity in health outcomes and work to build a healthier community all around us," said UC Davis CEO and Vice Chancellor for Human Health Sciences David Lubarsky. "We, and the City of Davis, are so fortunate to have her on our teams."
For almost 20 years in Davis, Murray-García has used another platform to nurture dialogue and change as a columnist for The Davis Enterprise.
"Partnering with many in Davis, it has been my privilege to write and work against racial inequality in health care, public education and law-enforcement practices. I have tried to be data-driven and solutions-oriented," said Murray-García. "But if I could be deeply personal for a second about my motivation: My service to Davis has been an extension of a personal faith in Jesus Christ, my favorite role model in community activism, servant leadership and strategies to affirm, in practical daily ways, the value of others' lives, especially the children, as highly as His own."