UC Davis Health ranks seventh in the nation for kidney transplants in 2020
World-class care close to home benefits patients, community
(SACRAMENTO)
Despite a pandemic and nationwide hospital capacity concerns, UC Davis Health's kidney transplant team was among the top 10 busiest kidney transplant centers in the U.S for 2020. The UC Davis kidney transplant team ranks No. 7 in the country for total volume of kidney transplants and No. 1 in California for total number of deceased donor kidney transplants.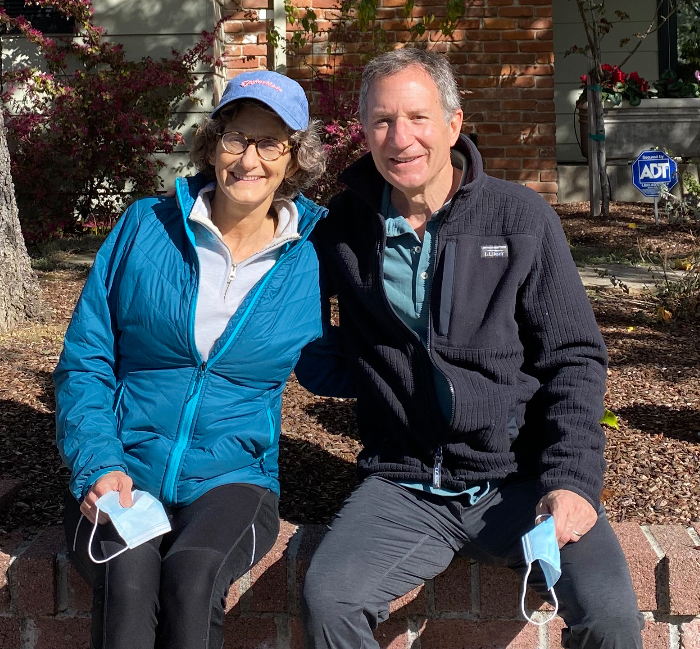 By the end of last year, transplant center surgeons had performed 352 kidney transplants, which is the second-highest year on record since the program began in 1985. (The highest volume year was 2016 with the total number of kidneys transplanted at 402.) The 2020 numbers drove UC Davis Health to be in the top 10 in the nation in terms of the number of all kidney transplants, and third in the nation for number of deceased donor transplants.
Behind the statistics are people like 56-year-old Margaret Gladstein and Jeff Blumenthal, cousins who began their transplant journey last year. Gladstein suffers from polycystic kidney disease, an inherited disorder in which clusters of cysts form and cause kidneys to lose function over time.
"In October of 2019, I got the news that my creatinine levels went up and my kidney function went down. Even though you know it's coming, it was hard to hear," Gladstein said.
Creatinine is a chemical that indicates if your kidneys are working well. Gladstein desperately needed a new kidney, just as her brother and two aunts had before her. It was a well-known reality in her family circle.
"We were at a family function in Chicago about three years ago and I asked Margaret how her kidney was doing," recalled Blumenthal, who is five years Gladstein's senior. "I then said flippantly, 'When you need a transplant, give me a call!'"
Gladstein did. And in August 2020, they began the process so Blumenthal could follow up on his offer to donate a kidney.
"At first I thought, if I don't do it someone else will," Blumenthal said. "But then I realized if everyone thought that way, then nobody would donate. And you do what you can to improve someone else's life."
The successful transplant was Feb. 8 of this year. Both Gladstein and Blumenthal credit the UC Davis Health team for all the precautions they took to keep them safe and healthy during the coronavirus pandemic.
"It has been a very tough year for everyone, particularly our patients in need of a transplant," said Richard Perez, chief of Transplant Surgery and medical director for the UC Davis Health Transplant Center. "Our transplant team has made many changes in our practice to make transplantation a safe option, even in the midst of the pandemic. It is very gratifying for all of us to have the opportunity to have a positive impact on the lives of our patients during these difficult times."
The UC Davis Transplant Center has consistently been among the nation's top programs in terms of kidney transplant volume. Outcomes for UC Davis kidney transplant patients also consistently meet or exceed the national average. That's why transplant team members are astounded when people in Sacramento don't know about the program.
"I'm stunned at the number of people who don't know we have a world-class transplant center in their backyard," said Melissa Bein, transplant center director. "Transplant is a multi-year process with many steps and lots of provider visits."
Bein said sometimes location is what makes the difference between people receiving care or not.
"It's amazing," Gladstein added. "Every time we go to an appointment, my husband and I talk about how fortunate we are to live a couple of miles away from this in our backyard. I feel very fortunate about that."
Gladstein and Blumenthal agree that despite the long process, the UC Davis Health team put their health and safety first to make the transplant a reality.
"Obviously, I've never donated a kidney before," Blumenthal said. "But I'd much rather have the experience of UC Davis Health than somebody who doesn't do as many of these. It's an honor to be able to do this."
An honor and a life-saving sacrifice.
"I'm incredibly grateful that he's willing to go through this," Gladstein added. "I'm amazed he was so committed to doing it in the midst of a pandemic. I hope his experience encourages others to do this as well. It really is the gift of life."
For information about kidney transplants or becoming a donor, visit the Sierra Donor Services or UC Davis Transplant Center websites.
UC Davis Health is improving lives and transforming health care by providing excellent patient care, conducting groundbreaking research, fostering innovative, interprofessional education, and creating dynamic, productive partnerships with the community. For more information, visit health.ucdavis.edu.