UC Davis Health supports St. HOPE's Juneteenth Block Party in Oak Park on June 19
Chancellor May issues statement on new federal holiday commemorating end of slavery
(SACRAMENTO)
On June 19, 1865, enslaved people in Galveston, Texas finally heard and celebrated the news that they were freed – two months after the Confederacy had surrendered and 2½ years after the Emancipation Proclamation.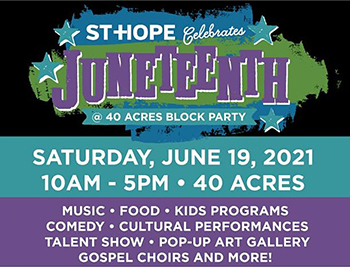 Yesterday (June 17), President Joe Biden signed legislation making that date – known as Juneteenth – the 12th federal holiday.
"I'm moved to see Juneteenth, the day that commemorates the emancipation of slaves, made a federal holiday. It is a day that African Americans have long celebrated across the nation since June 19, 1865," said UC Davis Chancellor Gary S. May. "While it is a day of joy, it is also a reminder of our nation's history, how far we have come and how far we have to go. I encourage the UC Davis community to learn more about Juneteenth and find ways to join in celebrating this significant day."
Tomorrow (June 19), community members are invited to commemorate the day in Sacramento by attending the first annual Juneteenth Block Party at 40 Acres, presented by St. HOPE. It will be held from 10 a.m. to 5 p.m. at Esther's Park, 3408 3rd Avenue, in the Oak Park neighborhood.
The free event, sponsored by UC Davis Health, offers the public the opportunity to watch short films in the historic Guild Theater, participate in interactive activities down Art Ally, listen to live music and entertainment on the main stage, support Black-owned street vendors, and enjoy a variety of cultural foods.
UC President Michael V. Drake has also announced that the UC system will observe Juneteenth on June 28 in 2021; learn the details on how this will apply to UC Davis Health employees.