UC Davis Health surgery chair to lead prestigious organization
Diana Farmer third woman named president-elect of American Surgical Association
(SACRAMENTO)
UC Davis Health's Diana Farmer is the new president-elect of the American Surgical Association (ASA) for the 2021-22 year. She assumes the presidency in 2022-23.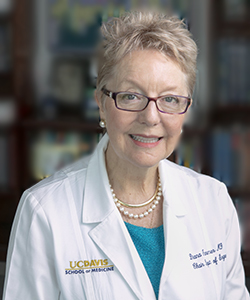 Farmer is the first surgical leader from UC Davis School of Medicine and the first woman from UC Health named to the position and only the third woman elected to this position in the association's 141-year history. Membership announced Farmer's new role at the association's virtual annual meeting April 15-16.
"I am humbled and privileged to bring this academic honor to UC Davis and am proud to follow in the footsteps of fellow University of California surgeons, Dr. James Economou, Vice Chancellor for Research at UCLA, and Dr. Haile Debas, former Chancellor at UCSF," said Farmer.
Farmer, who has served as Department of Surgery department chair since 2011, was recently featured in a Sacramento publication for her impact in the medical field. An internationally recognized fetal and neonatal surgeon, Farmer is known for her skilled surgical treatment of congenital anomalies and for her expertise in cancer, airway and intestinal surgeries in newborns.
She's currently researching a novel stem cell therapy which includes running a first-in-human clinical trial for repairing damaged neural tissue in spina bifida patients. Farmer also oversees more than 250 faculty, volunteer clinical faculty, postdoctoral fellows, residents, students and staff who provide highly skilled, specialty services in bariatric, burn, cardiothoracic, gastrointestinal, plastic and reconstructive, oncology, transplant, trauma and vascular surgery.
"Throughout her career, Dr. Farmer has demonstrated extraordinary leadership and innovation – as an internationally renowned surgeon, trailblazing researcher and role model for future physician scientists," said Dean Allison Brashear of the UC Davis School of Medicine. "As president-elect of the ASA, the field of surgery will greatly benefit from Dr. Farmer's expertise and vision."
Farmer recently won a U21Award for advancing global perspectives in her field. In 2010, Farmer was inducted as a fellow into the Royal College of Surgeons of England, becoming only the second woman surgeon from the United States to receive this prestigious honor. In 2011, she was elected to membership in the Institute of Medicine of the National Academies, one of the highest honors in medicine.
ASA is the oldest surgical association in the U.S. Its members include the nation's most prominent surgeons from the country's leading academic medical institutions as well as leading surgeons from around the world. Its primary mission is to be the premier organization for surgical science and scholarship and to provide a national forum for developing state-of-the-art general and sub-specialty surgery. Members also work to elevate the standards of the medical/surgical profession.