UC Davis Health's Wraparound program celebrates two years
Program offers support, resources for young people injured by violence.
(SACRAMENTO)
As a level I adult and pediatric trauma center, UC Davis Medical Center cares for more than 100 violently injured youth each year. For the past two years, the UC Davis Health Wraparound program has been offering the Oak Park community ongoing support for these violently injured young people as they return home and recover from their trauma. Last year, the program expanded support to include patients from six other neighborhoods in Sacramento County that have high rates of community violence.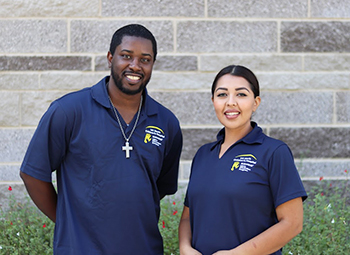 "There have been a few misconceptions about our program. One misconception is that Wraparound is a 'gang' program or a program for violent patients. Gang affiliation is not a requirement or exclusion criteria for our program. We also believe it has no bearing on the quality of care anyone should receive at UC Davis Health," said Christy Adams, the trauma prevention coordinator who oversees the program. "We are also not mediators between hospital staff and patients with violent behaviors. Our goal is to find victims who are looking for positive change and bring them comprehensive community-based case management."
Chevist Johnson and Esmeralda Huerta are the UC Davis violence intervention specialists who support patients ages 13-26 who are enrolled in the program for up to one year. They connect victims of violence with resources for housing, food, jobs, counseling services, victims' compensation and more. It is a free service.
The program has helped more than three dozen victims get back on their feet after interpersonal violent incidents, ranging from drive-by shootings to firearm assaults. The program doesn't support child abuse, domestic abuse or sexual abuse cases and refers these patients to appropriate resources.
"Since beginning the program in 2018, our team has been educating staff on recognizing implicit bias toward patients injured by violence, particularly boys and young men of color. While we are not yet able to establish a causal relationship, we have data showing adolescent patients injured by gun violence are more likely to be admitted to an adult intensive care unit (ICU) than patients of the same age who were injured in a car crash. We are just beginning to explore the clinical, psychological and longer-term recovery implications this 'adultification' may have for these youth."
The program is funded by a $450,000 Kohl's Cares grant.
For more information about Wraparound, visit https://health.ucdavis.edu/injuryprevention/kohls/youth_violence_prevention.html.