UC Davis Medical Center thanks contributors of protective equipment
Team no longer accepting PPE donations
(SACRAMENTO)
Many companies and organizations stepped up to support UC Davis Medical Center with personal protective equipment, or PPE, donations for health care teams treating patients with COVID-19.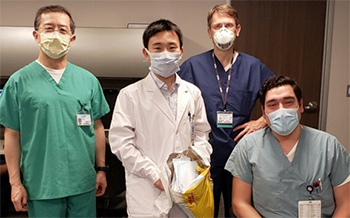 Because of this generosity, together with carefully planned equipment purchasing, the medical center no longer needs PPE donations.
Donors include Harbor Freight and Sierra Sacramento Valley Medical Society. International colleagues also offered a helping hand.
Peking University First Hospital in Beijing, China, donated 400 surgical masks. Luhua Wei, a visiting fellow from the Department of Neurology at Peking University First Hospital, delivered the donation on behalf of his department.
"Our department director Dr. Zhaoxia Wang, former director Dr. Yining Huang and chief of nursing Chenchen Meng sent the masks to help our friends and colleagues during this difficult time," Wei said.
The neurology departments at UC Davis Health and Peking University First Hospital work together on different teaching and research projects, thanks to efforts by Lin Zhang, UC Davis professor of neurology.. In 2019, eight UC Davis neurology faculty traveled to Beijing to meet with colleagues and discuss future collaboration opportunities. At the end of last year, Peking University First Hospital neurology faculty visited UC Davis as well.
"We appreciate the masks and are very grateful for this donation," said Marc Lenaerts, clinical professor of neurology and director of Outpatient Neurology at UC Davis. "Interuniversity collaboration can take many forms, not just scientific and clinical."
The First Affiliated Hospital Sun-yat Sen University in Guangzhou, China, donated 16,250 boxes of N95/KN95 particulate filter respirators, surgical masks, examination gloves and protective coveralls. The university's connection with UC Davis Health began last year, when surgeons Bahareh Nejad and Hung Ho visited The First Affiliated Hospital Sun-yat Sen University to provide guidance in launching a robotics surgery program.
"I am so glad our efforts to support high-quality surgical care everywhere resulted in this generosity," said Nejad, who leads the health system's robotics program. "It was truly an unexpected and heartwarming outcome of our outreach."
In her letter with the equipment, Shu-qin Ding J.M., director of the Office of International Affairs at The First Affiliated Hospital Sun-yat Sen University, said, "During this difficult time of COVID-19, our thoughts are with our friends in the United States. We will always stand together with you to fight the pandemic."
For a list of non-PPE donations to support UC Davis Health care teams, visit https://health.ucdavis.edu/coronavirus/donate.html.