UC Davis medical student wins global writing award
Essay on COVID-19 expert Anthony Fauci says science is truth
(SACRAMENTO)
Second year UC Davis School of Medicine student Samantha Wong was named a winner in the prestigious 2020 Lasker Essay Contest. The Lasker Foundation announced the winners of the global competition among student scientists and clinicians July 10.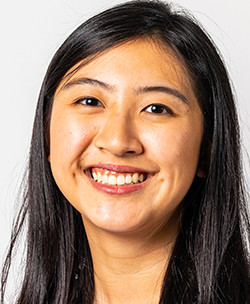 The writers were asked to describe how they were inspired by a notable scientist. Wong, who is in the five-year Academic Research Careers for Medical Doctors program, chose Anthony Fauci, the nation's top infectious disease expert and advisor on COVID-19. She described him as a "representative of truth and facts."
"His measured Brooklyn rasp and tell-it-to-me-straight demeanor have garnered the admiration of the country and even inspired fan merchandise," Wong wrote in her 800-word essay. "Dr. Fauci represents a role of physicians and scientists that has diminished in recent years: a voice of reason, a representative of truth and facts."
Wong said writing continues to be important to her as a medical student.
"I'm incredibly honored and grateful to be selected," she said. "Writing has always been a great passion of mine."
Wong said she was also excited about the chance to write from her perspective as a new medical student during the COVID-19 pandemic.
"I think physicians play unique roles as advocates, science communicators, and, in Dr. Fauci's case, sometimes as very public figures," she said. "Receiving this award has validated my aspiration to pursue writing in my future medical career."
Wong wrote about the need to find trusted leaders for guidance during these upsetting and unprecedented times of COVID-19. Among the people she looked to was Fauci, and she wrote that his 2007 Lasker Laureate speech confirmed her beliefs about science.
"Dr. Fauci said, 'I realized early on that when you deal in the heady company of presidents, cabinet secretaries and members of Congress and are asked for advice, you must be prepared to disappoint people with the truth,'" she wrote, highlighting his comment, "'I accepted that concept. Science is truth, and as a scientist I told the truth.'"
Wong's award, and her essay's emphasis on "science is truth," also impressed Allison Brashear, dean of the School of Medicine
"We are very proud of Samantha and her remarkable achievement," Brashear said. "Her insights about Dr. Fauci and the vital role of medical doctors as strong leader-advocates, scientists and truth tellers – especially during this unprecedented time – really speaks to the important work all of us in the medical profession do to protect the health of the communities we serve. Congratulations, Samantha, for this well-deserved honor!"
Wong will receive $2,000 towards education expenses and a paid trip to New York City for the 2021 Lasker Awards, which have been given annually since 1945 by the Albert and Mary Lasker Foundation. The foundation is focused on increasing funding for medical research and showcasing advances that improve health. Its president is Claire Pomeroy, former UC Davis School of Medicine dean and emerita vice chancellor of human health sciences.
In her essay, Wong also wrote that before medical school, she considered journalism and clinical research, "seemingly disparate fields, but to me, both centering around truth seeking. Dr. Fauci reminds me that truth seeking is not absent from medicine either. It is central to it."