UC Davis nursing and medical schools team up, keep students on track
Future providers thankful for School of Medicine leaders and preceptors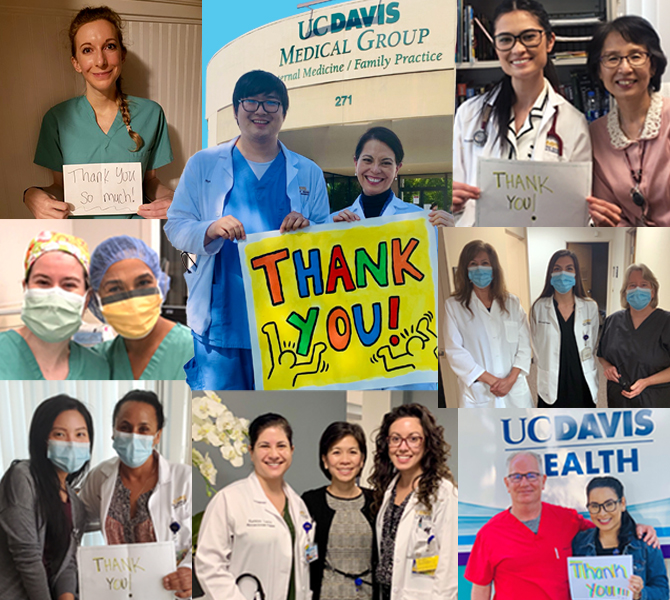 SACRAMENTO – When COVID-19 hit, it not only disrupted life as we know it for all Americans, but it threatened to derail students in health professions programs from graduating on time.
"Most of the health systems in the region who we rely on as partners for students' clinical experiences told our students to steer clear until the worst had passed," said Stephen Cavanagh, dean for the Betty Irene Moore School of Nursing at UC Davis. "Fortunately, we were able to tap into the vast enterprise of UC Davis Health and partner with our colleagues like never before."
Cavanagh and the School of Nursing's education team reached across campus to leaders and department chairs within the UC Davis School of Medicine. That's when the predicament turned into an opportunity and teamwork and collaboration saved the day.
"The strength of UC Davis Health is that we are an academic medical center. Our job is both to treat the patients who rely on us and teach the future generation of health care professionals," explained David Lubarsky, CEO of UC Davis Health.
Within a few weeks, future advanced practice providers – physician assistants (P.A.) and family nurse practitioners (FNP) on track to graduate this summer – reported for clinical rotations at UC Davis Health clinics and in the Departments of Internal Medicine and Surgery.
"We have a dedicated team at the School of Medicine who rose to this challenge and worked creatively to ensure that students would continue to get the training they need and transition smoothly into the workforce where they are needed," added Allison Brashear, School of Medicine dean.
"Thank you to Dr. Linda Woo and all of the staff at UC Davis Internal Medicine Midtown Clinic for all of their hard work in coordinating a wonderful clinical experience for us students during this challenging time. We are so grateful for their mentorship and support," said Marisa Speer, a second-year P.A. student.
"We are sincerely grateful to our medicine colleagues for their partnership in educating our students," Cavanagh said. "The combination of them opening doors for students and flexible nursing faculty transitioning quickly to remote instruction, allows us to continue educating our students when other programs have suspended instruction."
Students are grateful for this reality and their UC Davis Health preceptors.
"My amazing preceptor and senior mentor in Surgical Oncology was Dr. Candice Sauder. She, along with my wonderful junior mentor Dr. Elan Sherazee, a surgical resident, gave me a wonderful experience. Despite the Covid-19 pandemic, they taught me foundational knowledge in this area of medicine," said Selu Vargas, a second-year P.A. student.
"It has been an honor to be able to rotate with Dr. Gertrudes Montemayor. She was nothing but amazing. Her passion and knowledge for the field of medicine is truly inspiring and motivational," said Peter Soo-Hwan Kim, a second-year P.A. student.
In the coming weeks, P.A. and FNP students venture into the Obstetrics and Gynecology and Emergency departments of UC Davis Health, still on track to complete their programs later this summer, right on schedule.
About the Betty Irene Moore School of Nursing at UC Davis
The Betty Irene Moore School of Nursing at UC Davis transforms health care through interprofessional nursing education and research. Established in 2009 through a $100 million grant from the Gordon and Betty Moore Foundation, the school offers five graduate areas of study, including doctoral and master's-degree programs in nursing science and health-care leadership and master's-degree programs for pre-licensure nurses, family nurse practitioners and physician assistants, with a focus on preparing primary-care providers for rural and underserved communities. The Betty Irene Moore School of Nursing is part of UC Davis Health, an integrated, academic health system encompassing the UC Davis School of Medicine, UC Davis Medical Center and the UC Davis Medical Group. For more information, visit nursing.ucdavis.edu.