UC Davis nursing school hosts virtual graduation
Students from five graduate-degree programs, along with faculty, staff, family and friends celebrate online
(SACRAMENTO)
Resilient, committed and remarkable.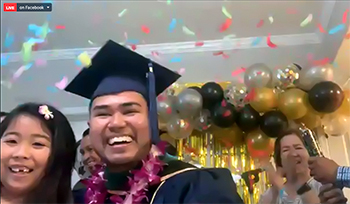 These are the qualities attributed to and embodied by the new graduates of the Betty Irene Moore School of Nursing at UC Davis.
To mark the milestone at the end of their academic journeys, school leaders hosted a virtual graduation celebration June 10. A videotaped message from David Lubarsky, CEO of UC Davis Health, kicked off the event. Faculty participated in the Zoom event in Betty Irene Moore Hall, while the 161 graduates joined remotely from their homes and communities. Friends and family viewed via a Facebook Live stream.
Despite the distance, the graduates of the school's five degree programs commemorated the shared experience of completing their graduate degrees during a pandemic and persevering against unprecedented challenges.
"For the past year, we've celebrated our 10th anniversary. We've learned a lot in our decade of discovery. Today, I want to share with you three things we have discovered about ourselves that very much parallel what you, graduates, have learned about yourselves," said Dean Stephen J. Cavanagh. "A strong foundation can weather any storm. Adaptability is critical for success. And a legacy outlasts any experience. Go out into the world and go beyond in your contributions to make this world a better, healthier and more equitable place."
Among the Classes of 2021 is the final cohort of Master of Science — Leadership students. In fall 2010, the first class of 25 leadership students entered what, at the time, was a new nursing school. The program, which ends after this year, has offered registered nurses the opportunity to elevate how they view nursing and see the systems that affect health. For a decade, it has produced graduates who lead nursing staff, teach future nurses in college, work as clinical instructors for the School of Nursing, serve on community boards and impact policy-making bodies.
"To quote founding Dean Heather Young from our very first welcoming ceremony in 2010, 'When I think of heaven, I think of a very still pond in the high Sierra. Betty Moore took a pebble and threw it into that pond. Her pebble was her commitment and her vision,'" said Jessica Draughon Moret, an assistant professor who teaches in the program. "Just as water molecules disperse to continue those ripples, you, as alumni, now make waves of change in health care."
Class-elected speaker Aron King echoed that sentiment.
"We are so lucky to be here semi-together celebrating what has been a very challenging journey. Most of us entered this program as strangers. Over the last five quarters, we have grown to become family. As our lives and careers continue in this album called life, know that we will always be connected by this single song," he said.
Nursing faculty recognized five students with awards of excellence, highlighting the
school's five core attributes:
Excellence in Innovative Solutions: Jonathan Trask
Excellence in Community Connection: Nicole Vance
Excellence in Leadership: Hannah Davis
Excellence in Collaboration: Erika Gonzalez
Excellence in Diversity and Inclusion: Mohamed Jawara
School of Nursing students and faculty also submitted nominations for the Dean's Excellence Awards to honor staff and faculty in three areas: Teaching, Research, and Diversity and Inclusion. Those recognized include:
Excellence in Teaching: Kathryn Sexson
Excellence in Research: Deb Bakerjian
Excellence in Diversity, Equity and Inclusion: Brent Luu
Following the School of Nursing event, the graduates from the Nursing Science and Health-Care Leadership Degree Programs joined faculty for an informal mixer on the grounds outside in the Betty Irene Moore Hall courtyard on the Sacramento campus.
The Nursing Science and Health-Care Leadership Graduate Degree Programs, which includes master's degrees in leadership, family nurse practitioner, physician assistant studies and entry-level nursing, as well as a doctoral program, are led by an interprofessional team of more than 55 faculty from across UC Davis. You can view a recording of the event here. Click here to view a program from the celebration. Learn more at nursing.ucdavis.edu.