UC Davis nursing school names new health equity, diversity and inclusion dean
Piri Ackerman-Barger brings personal and professional experiences to role
(SACRAMENTO)
The Betty Irene Moore School of Nursing at UC Davis announces the appointment of Piri Ackerman-Barger to the newly created position of associate dean for Health Equity, Diversity and Inclusion.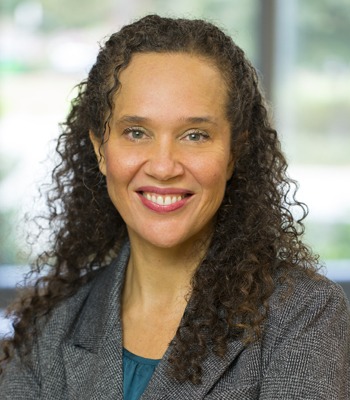 In this position, Ackerman-Barger leads the school's efforts to create a diverse and welcoming setting in which to learn, work and collaborate. She also designs initiatives so the school's learning environments, workforce, programs, services and partnerships are more diverse and inclusive. She reports to UC Davis Health Associate Vice Chancellor for Health Equity, Diversity and Inclusion Hendry Ton and to Stephen Cavanagh, dean for the School of Nursing.
"Dr. Ackerman-Barger brings valuable perspectives from both her personal experiences and her professional expertise in the educational experiences of underserved populations," Cavanagh said. "Embracing the diversity of our voices, identities and experiences is a top priority if we are going to achieve our mission to transform health care through health education and research."
Ackerman-Barger is an associate clinical professor at the School of Nursing, director of Faculty Development for Education, co-director for the Interprofessional Teaching Scholars Program and serves as a researcher in the Center for a Diverse Healthcare Workforce at UC Davis Health. Her academic interests relate to health equity and social justice. Over her career, she has combined her expertise in nursing and education to advance inclusive learning environments, education equity and workforce diversity.
"Health equity is about ensuring that all people have fair access to the resources needed to live healthy lives. I am honored to serve the university in fulfilling this mission for individuals, families and communities in our area and beyond," Ackerman-Barger said. "There is no more important time in our history than now to foster equity-minded health care providers who have the knowledge and skills they need to promote health equity."
After three years, multiple committees and a shared goal to increase its diversity among students, faculty and staff, the School of Nursing community launched a webpage in 2019 detailing the team's beliefs and commitment to ensure all members feel included, valued and respected. Ackerman-Barger played a critical role in guiding community discussions and strategic planning in the school's mission to advance health and health equity for all. The school's diversity statement affirms current beliefs and future aspirations within the school community.
"We are delighted that Dr. Ackerman-Barger will be the School of Nursing's first associate dean for Equity, Diversity and Inclusion (DEI). This deanship reflects the school's commitment to advancing health equity and the deepening collaboration between our office and the school," Ton said. "Dr. Ackerman-Barger, a nationally recognized and highly respected DEI leader, is the ideal person to help the school and overall health system take critical steps to further embrace the Principles of Community through structural transformation and deliberate action."
In this new role, Ackerman-Barger serves as a member of the UC Davis Health Equity, Diversity and Inclusion Leadership Council to develop, review and implement initiatives that support the institution's equity, diversity and inclusion mission. She works alongside Ton to develop a national identity for the UC Davis Health diversity programs.
Her appointment is effective July 1.
About the Betty Irene Moore School of Nursing at UC Davis
The Betty Irene Moore School of Nursing at UC Davis transforms health care through interprofessional nursing education and research. Established in 2009 through a $100 million grant from the Gordon and Betty Moore Foundation, the school offers five graduate areas of study, including doctoral and master's-degree programs in nursing science and health-care leadership and master's-degree programs for pre-licensure nurses, family nurse practitioners and physician assistants, with a focus on preparing primary-care providers for rural and underserved communities. The Betty Irene Moore School of Nursing is part of UC Davis Health, an integrated, academic health system encompassing the UC Davis School of Medicine, UC Davis Medical Center and the UC Davis Medical Group. For more information, visit nursing.ucdavis.edu.