UC Davis nursing school selects inaugural nurse leader fellows
Cohort represents spirit of Betty Irene Moore's passion to advance profession
(SACRAMENTO)
The national program office at the Betty Irene Moore School of Nursing at UC Davis today announced the 11 members of the inaugural cohort for the Betty Irene Moore Fellowships for Nurse Leaders and Innovators.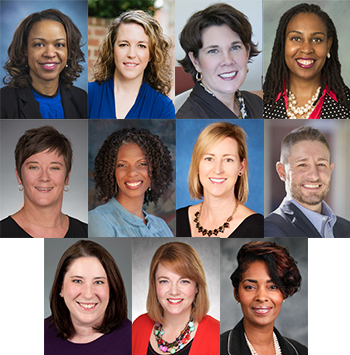 According to fellowship leaders, these fellows bring diversity of perspective and great potential to advance the nursing profession and are affiliated with major public and private universities across the country.
"We are delighted that such a strong pool of qualified applicants sought this opportunity to grow their leadership skills and contribute to nursing science," said Heather M. Young, national program director and professor. "While the applicants represent diverse forms of leadership, across the missions of research, education, practice and policy, they also share a common commitment to improving health and health care systems."
This new fellowship program supports approximately 10 fellows each year for the next five years and is funded by a $37.5 million grant from the Gordon and Betty Moore Foundation. It recognizes early- to mid-career nursing scholars and innovators with high potential and requires they take part in an innovative project or study.
"The next generation of leaders must be equipped to manage change at an accelerating rate, develop innovative solutions and meet the needs of our increasingly diverse population," Young said. "Now is the time to invest in the potential of our next generation of leaders, helping them to develop the skills they need to lead, make change, improve health and influence others."
The inaugural fellows focus on populations across the lifespan and their projects aim to address issues in prevention, health care delivery and education. The cohort has particular strength in advancing health equity, addressing complex problems in human health and exploring the potential of technological solutions.
"This inaugural cohort represents Betty Irene Moore's passion to advance nursing with the goal of better outcomes for individuals, families and communities," Young said. "They are collaborative and creative nurse scientists with important research questions and a passion for making a difference for the populations they serve."
The 2020 fellows include:
Kamila A. Alexander, assistant professor at Johns Hopkins School of Nursing: Alexander's research focuses on the effects of trauma and violence on sexual health outcomes among adolescents and young adults.
Dawn M. Aycock, associate professor and Doctor of Philosophy (PhD) Program in Nursing director at the Byrdine F. Lewis College of Nursing and Health Professions at Georgia State University: The goal of Aycock's research is to develop, test and disseminate innovative behavioral interventions to reduce stroke risk in young adult African Americans.
Fawn A. Cothran, assistant professor in the Family Caregiving Institute at the Betty Irene Moore School of Nursing at UC Davis: Cothran's research is dedicated to advancing care for older adults with chronic and serious illnesses as well as their family members and caregivers.
Nicholas Dionne-Odom, assistant professor and co-director for the Caregiver and Bereavement Support Services University of Alabama Birmingham Center for Palliative and Supportive Care: Dionne-Odom's research focuses on the development, clinical trials testing, and implementation of early palliative care telehealth interventions to enhance the coping, resilience, and skills of family caregivers of persons with advanced cancer and heart failure in underserved settings.
Lisa V. Duffy, assistant professor at the Bouvé College of Health Sciences, School of Nursing at Northeastern University: Duffy's research is dedicated to advancing care for adolescents with chronic illnesses as well as their family members and caregivers.
Stephanie Gilbertson-White, associate professor at the University of Iowa, College of Nursing: Gilbertson-White's research focuses on cancer symptom science with the long-term goal to better understand and manage distressing symptoms experienced by underserved patients with advanced cancer.
Jessica Keim-Malpass, associate professor at the School of Nursing and associate professor of Pediatrics at the School of Medicine at the University of Virginia: Keim-Malpass is a translational nurse scientist that works at the intersection of continuous predictive analytics monitoring and family-centered care for children and adolescents with serious illnesses and medical complexity.
Sheridan Miyamoto, assistant professor at the College of Nursing and principal investigator for the Sexual Assault Forensic Examination Telehealth Center (SAFE-T Center) at Penn State University: Miyamoto's research interests include the use of telehealth technology to improve sexual assault forensic care in rural communities, the use of technology and innovation to improve patient health outcomes, and the identification and prevention of commercial sexual exploitation of children.
Melissa O'Connor, associate professor at Villanova University's M. Louise Fitzpatrick's College of Nursing, distinguished educator in Gerontological Nursing and the director of the Gerontology Interest Group: O'Connor's research focuses on the health outcomes of vulnerable older adults receiving home health care.
Rebecca O'Connor, assistant professor for Child, Family and Population Health Nursing at the University of Washington School of Nursing: O'Connor's research focuses on disparities among minority youth with Type 1 diabetes and how health care provider implicit bias contributes to these disparities.
Schenita Davis Randolph, assistant professor at Duke University School of Nursing and co-director for the Duke Center for Research to AdvanCe Healthcare Equity (REACH Equity) Community Engagement Core: Randolph's research focuses on parent adolescent sexual health communication and HIV prevention among black male adolescents and young adults using community-engaged and family-based approaches.
Applicants completed a rigorous review process. National program office leaders, along with members of the Fellowship National Advisory Council ultimately selected a diverse group pursuing innovative approaches to challenging problems. The program forms a learning community among fellows, combined with a strong curriculum to build skills and confidence in leadership and innovation.
Faculty from the UC Davis Graduate School of Management contributed their expertise to develop the hybrid online curriculum for the fellows, designed to enhance leadership and innovation capacity, strengthen strategic thinking and collaborative skills, expand professional networks and propel innovative ideas to fruition.
Applications for the 2021 cohort open Sept. 15. To learn more, visit the fellowship program webpage.
About the Betty Irene Moore School of Nursing at UC Davis
The Betty Irene Moore School of Nursing at UC Davis transforms health care through interprofessional nursing education and research. Established in 2009 through a $100 million grant from the Gordon and Betty Moore Foundation, the school offers five graduate areas of study, including doctoral and master's-degree programs in nursing science and health-care leadership and master's-degree programs for pre-licensure nurses, family nurse practitioners and physician assistants, with a focus on preparing primary-care providers for rural and underserved communities. The Betty Irene Moore School of Nursing is part of UC Davis Health, an integrated, academic health system encompassing the UC Davis School of Medicine, UC Davis Medical Center and the UC Davis Medical Group. For more information, visit nursing.ucdavis.edu.