UC Davis School of Nursing researchers awarded public-impact grants
Scientists hope to advance understanding of food security on tribal lands and COVID-19 vaccine acceptance among low-income women
(SACRAMENTO)
Two important areas of study – vaccine confidence among low-income women in Sacramento and food security on tribal lands in the Klamath Basin – just got a big boost.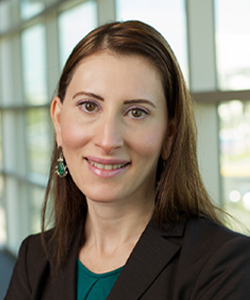 Researchers from the Betty Irene Moore School of Nursing at UC Davis have been awarded Public Impact Research Initiative (PIRI) grants from the UC Davis' Public Scholarship and Engagement.
Gaining insight into COVID-19 vaccine confidence
Ester Carolina Apesoa-Varano, a sociologist and associate professor at the School of Nursing, earned a $7,500 seed grant to develop a partnership with Wellspring Women's Center in Sacramento's Oak Park neighborhood. As lead investigator, she wants to build understanding of COVID-19 vaccine confidence among low-income women of diverse backgrounds.
Wellspring Women's Center is a neighborhood gathering place that provides meals and services to socially vulnerable women and their children.
"A better understanding of the vaccination views of diverse low-income women is urgently needed in order to learn how deeply rooted community organizations like Wellspring can best help build COVID-19 vaccine confidence, particularly among Black and Latina women who often face systemic problems accessing health care," Apesoa-Varano said. "Building sufficient acceptance of COVID-19 vaccines to achieve herd immunity is of urgent importance for saving lives and reopening society."
Apesoa-Varano leads a team of volunteers that includes Genelle Smith, Wellspring's executive director, and from the School of Nursing, Professor Sheryl Catz, postdoctoral scholar Susan Miller and graduate students Linda Vuong, Kerri Maya and Reyna Portillo.
In addition to the PIRI grant award, the UC Davis Health-Wellspring partnership project is supported by $1,000 in School of Nursing Health Equity, Diversity and Inclusion funds and staffing support from Wellspring Women's Center.
Understanding food security challenges on tribal lands
Associate Professor Katherine Kim also received a $7,500 PIRI grant. She'll use it to continue her work related to food security on tribal lands.
Kim previously worked with the Karuk Tribe reservation in the Klamath Basin in Northern California for more than five years. This new project is with the Yurok tribe. On both reservations, high levels of poverty, reliance on heavily processed food from federal assistance programs and loss of traditional and tribal knowledge have contributed to health disparities that are seen beginning at birth.
A $10,000 PIRI seed grant in 2020 led to a research collaboration to build capacity for food security. With this new bridge grant, Kim hopes to enhance the community's capacity for health disparities research and program evaluation as well as strengthen the quality of the university's community-engaged research.
The project is also examined in two documentaries with Kim and her tribal research partner Sammy Gensaw."With this bridge grant, we will deepen this collaboration through a combination of stakeholder engagement, training, and application of research skills in the evaluation of the Yurok Food Sovereignty Project," Kim said.
"Both of these projects are excellent examples of the Betty Irene Moore School of Nursing's community connection core attribute in action. Importantly, both projects are poised to make meaningful positive impacts on community health," said Janice Bell, associate dean for Research. "It is wonderful to see this recognition and support of the school's ongoing commitment to community-engaged scholarship."
The PIRI program recognizes and supports research that is cogenerated with community partners, is of mutual benefit and has a positive public impact. It prioritizes research that is centered around ideas of mutual benefit to researchers and partners and endeavors to combine academic knowledge with community-based knowledge in a multidirectional and reciprocal way.