UC Davis surgeons on track to do record number of kidney transplants in 2020
Team credits the increased availability of organs for transplant
(SACRAMENTO)
Kidney transplants are on the rise at UC Davis Health, with the transplant team on track to have its highest volume year ever.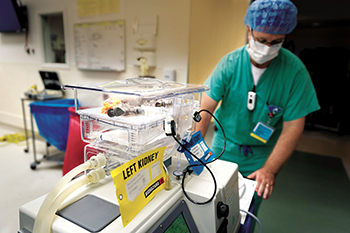 As of August 20, transplant center surgeons had completed 220 kidney transplants. For all of 2019, they did 211. The center's highest volume year so far was 2016, with 402 kidney transplants.
"The difference is an increase in the number of kidneys available for transplant within our own region," said transplant center director Melissa Bein.
She credits the upward trend to expanded outreach efforts of the local organ procurement organization, Sierra Donor Services, in registering potential donors and raising awareness of the importance of organ donation.
"They have really gone out of their way to make sure that organs in our region that can be transplanted are made available for transplant," Bein said. "The less distance an organ needs to travel, the better."
The UC Davis Transplant Center has consistently been among the nation's top programs in terms of kidney transplant volume. Outcomes for UC Davis kidney transplant patients also consistently meet or exceed the national average.
Volume is an important factor transplant candidates consider when selecting centers for their care, because it is linked with experience and resources. It also is one of the reasons UC Davis was selected as a model hospital by the United Network for Organ Sharing and to guide national best practices for transplant by the Centers for Medicare & Medicaid Services.
"We are excited to see that UC Davis is saving many more lives this year," said Sean Van Slyck, executive director of Sierra Donor Services. "It highlights the incredible dedication and commitment of our teams' efforts to maximize every donation opportunity and reinforces the importance of partnering with them in our endeavors. Together, we work tirelessly to respect and honor our donor heroes and their families, and we are forever grateful for their generosity."
For information about kidney transplants or becoming a donor, visit the Sierra Donor Services or UC Davis Transplant Center websites.