U.S. life expectancy is up, largely due to decreased cancer, overdose deaths
UC Davis Health's lung cancer treatments, addiction treatment programs help save lives
(SACRAMENTO)
For the first time in four years, life expectancy in the U.S. is up, largely due to a decrease in drug overdoses and cancer deaths, the Centers for Disease Control reported Thursday.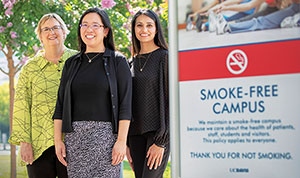 UC Davis Health plays a major role in reducing both causes of death, through lung cancer prevention efforts and leading-edge treatment at the UC Davis Comprehensive Cancer Center and an addiction treatment program at UC Davis Medical Center.
Making strides in lung cancer prevention, treatment
Lung cancer is the leading cause of death among American men and women, and the UC Davis Comprehensive Cancer Center has been at the forefront of innovative lung cancer treatment and prevention for years. Its oncologists are international leaders in genetic testing on lung tumors to find targets for precision medical treatments.
Researchers also have led numerous and novel national clinical trials of new therapies. These trials have produced more effective treatments, including immunotherapies, that have decreased lung cancer death rates.
In the hopes of catching lung cancers earlier when they are most treatable, the Cancer Center is working to increase screening in communities across Northern California, especially among African Americans, who suffer disproportionately from the disease.
David Cooke, head of thoracic surgery at UC Davis Health, serves as a national spokesperson for the American Lung Association. He continues to advocate for lung cancer screening, pointing out that lung cancer kills more Americans than breast, prostate and colon cancer combined.
In addition to these efforts, the Cancer Center launched an integrated program to help patients quit smoking and is engaging local governments in the discussion around sales bans of addictive tobacco products.
Leaders in reducing opioid deaths
Opioid use disorder affects more than 2 million Americans, but UC Davis Health's drug treatment program is working to stop patients from becoming statistics.
The treatment program, which has placed UC Davis Health as a leader in the state and the nation in addressing the opiate crisis, looks at addiction as a disease that's treatable rather than a death sentence or moral failing.
Patients are identified as having an opioid addiction in the emergency room. Then, they are started on buprenorphine, an oral opioid medication that significantly reduces withdrawal symptoms.
Once patients are stabilized, certified drug and alcohol counselors give them customized treatment plans and support their transition to a local rehabilitation program.
As a result of the program's success, two more certified addiction counselors have joined UC Davis Medical Center's social services department.
In addition to this program, UC Davis Health pain specialist David Copenhaver continues his work on various non-opioid treatments for cancer patients. These range from block nerves and stimulating the spinal cord to injecting steroids to prescribing new drugs that curb pain but don't lead to addiction.