U.S. News names UC Davis Medical Center among the nation's best
#1 ranked hospital in Sacramento
(SACRAMENTO)
U.S. News & World Report has again ranked UC Davis Medical Center among the nation's top hospitals in its annual survey of more than 4,500 hospitals nationwide.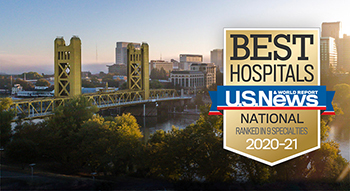 This year, UC Davis Medical Center also ranked as the #1 hospital in Sacramento, and among the top 10 in California. The medical center has been the #1 hospital in Sacramento for at least the last nine years, and in the Top 10 in the state for the past seven years.
Nationally, UC Davis Medical Center is ranked in the top 50 for nine specialty services, including cancer, cardiology and geriatrics. In addition, the hospital earned "high performing" designations for six common adult procedures and conditions, which included transcatheter aortic valve replacement (TAVR) and colon cancer surgery.
The hospital's rankings page appears on the U.S. News website.
Each year, U.S. News ranks hospitals and medical centers in a range of specialties, using results from a survey of physicians and care-related quality measures such as patient volume, nurse staffing, advanced technology and credentialing by professional organizations. UC Davis has been among the best hospitals in the nation in the magazine's survey for every year it has been evaluated.
"I am proud of the work we do here," said Brad Simmons, interim chief executive officer of UC Davis Medical Center. "The compassion and expertise our care teams provide to the community and region continue to be outstanding, and among the best available in California."
The medical center's rankings are on the heels of UC Davis Children's Hospital, which was named last month by U.S. News as among the nation's best in four pediatric specialty care services: orthopedics, nephrology, neonatology and urology.
The annual "Best Hospitals" report helps provide a guide for patients who need quality care for a surgery, challenging condition or other health problems. The publication analyzes a variety of data sources to determine its rankings. For this year's survey, which is based on the 2016-2018 calendar years, US News changed multiple metrics, which proved more challenging for academic medical centers than in previous years.
Adult Specialties National Rankings
Number indicates hospital's rank in the Honor Roll or national rank in the indicated specialty:
24th in Geriatrics
29th in Pulmonology & Lung Surgery
30th (Tie) in Nephrology
30th in Ear, Nose & Throat
31st in Urology
32nd (Tie) in Orthopedics
36th in Cancer
36th in Cardiology & Heart Surgery
37th (Tie) in Neurology & Neurosurgery
High Performing in Gastroenterology & GI Surgery
Common Adult Procedure and Condition Ratings
In addition to ranking specialty services, hospitals are also rated by US News as high performing, average or below average relative to other rated hospitals in treating patients 65 and older. Here are the 2020 rankings for the medical center's procedures and treatments for certain conditions:
Abdominal aortic aneurysm repair High Performing
Chronic obstructive pulmonary disease (COPD) High Performing
Colon cancer surgery High Performing
Heart failure High Performing
Lung cancer surgery High Performing
Transcatheter aortic valve replacement (TAVR) High Performing
Aortic valve surgery Average
Heart bypass surgery Average
Hip replacement Average
Knee replacement Average
Methodology Background
The methodology used by US News assesses hospital performances in 16 specialties or specialty areas, from cancer to urology. In 12 specialties, hospital rankings are determined by an extensive analysis of data that combines performance measures in three primary dimensions of healthcare: structure, process, and outcomes.
The structural measures include hospital volume, nurse staffing and other resources that define the hospital environment. Process is represented primarily by two factors, including a hospital's ability to develop and sustain high-quality care, as determined by expert opinion surveys of board-certified physicians. The other considers patient experience, which again improved at UC Davis Medical Center during the survey period.