Vimal Mishra joins UC Davis Health to lead digital transformation and care at home
(SACRAMENTO)
Vimal Mishra has been selected to lead digital transformation and the Operational Center of Excellence in Innovation Technology at UC Davis Health. He is a nationally recognized leader in digital medicine, award-winning practicing physician, clinical leader, educator, researcher, and digital health innovator.
In this newly created key role, Dr. Mishra has a joint appointment with the UC Davis School of Medicine and Innovation Technology, and will also serve in an academic leadership role. He joined UC Davis Health in August and will lead efforts to plan, execute and evaluate large scale enterprise-wide digital transformation efforts to support and improve clinical service lines, virtual care, digital monitoring, population health, and care at home. In this role, Dr. Mishra will partner with the School of Medicine and School of Nursing as well as national organizations to support digital health innovation, education and research, as he leads UC Davis Health's efforts to deliver tomorrow's health care today.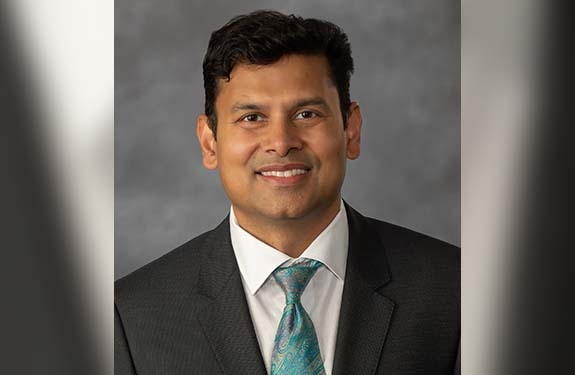 Dr. Ashish Atreja, Chief Information Officer and Chief Digital Health Officer, said, "We are thrilled to have a leader like Dr. Mishra join UC Davis Health. His unique set of achievements and pioneering work in virtual care and care at home will help us apply new care models for ambulatory, acute, post-acute, and at-risk populations at UC Davis Health. We are looking forward to having him bridge the gap between innovation and transformation and sharing the work with our community partners under open innovation."
On joining UC Davis Health, Dr. Mishra said, "I get to serve and lead a team that consists of some of the best and brightest minds in this field. By combining the best of technology and medicine we can – and will – build upon and grow health care to be more efficient, effective, compassionate, and inclusive for everyone."
Prior to UC Davis Health, Dr. Mishra served as the director of digital health at the American Medical Association (AMA) and medical director, associate professor of medicine and health administration at the Virginia Commonwealth University School of Medicine. He will continue his role with the AMA to provide clinical leadership for its programs focused on improving the quality and adoption of evidence-based digital health solutions with the goal of improving professional satisfaction and practice sustainability.
As a digital health expert and thought leader, Dr. Mishra serves on several national committees, advocacy groups, and business entities. He has been peer-nominated every year since 2017 as a "Top Doctor" in Richmond, Virginia, and has been awarded for excellence in clinical leadership, administration, and research. Dr. Mishra is board-certified in internal medicine and clinical informatics, is a Duke University School of Business graduate, and holds invention disclosures for digital health tools.