Volunteering in Brooklyn hospital: Long days, short on supplies, plenty of caring workers
(SACRAMENTO)
Although the infection rate has slowed in New York City, health systems and workers there are still badly stressed. With the curve much flatter here, a number of UC Davis Health providers have used their vacation time or taken leave to volunteer in the city that has become America's COVID-19 epicenter.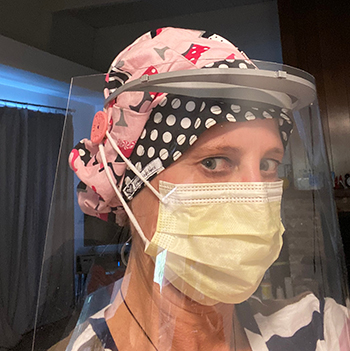 One of those was Paula Wagner, a nurse practitioner in outpatient urology. She returned to UC Davis Medical Center on May 18 after 13 days in New York. She talked recently about some of the experiences that resonated deeply with her, which provide a striking snapshot of the crises there.
"The locals working in the EDs there from the start are superhuman," Wagner said. "At the peak, people there worked 20-30 days straight. They still work 12-hour days and almost every day.
"No one complains," she said. "Nobody said to me, 'I'm tired.' They just showed up every day and helped every person they could because that's what they do. That's who they are."
Wagner volunteered at Coney Island Hospital in Brooklyn (a public hospital officially named NYC Health + Hospitals/Coney Island). She worked 12-hour shifts like everyone there and walked two miles to and from her hotel. Wagner said it was hard to get an overall perspective on the situation in New York, given the time demands on her there. Still, the images she describes are powerful.
"What was most surprising for me was the lack of essential equipment," she said. "Things like caps for IVs, disposable tape measures, disinfectant wipes. We used wall hand sanitizer and put it on paper towels. It was even difficult to find a pen."
Wagner packed a suitcase with masks donated by Noah Canvasser, a UC Davis assistant professor of urology, for her use and to donate.
"People kept asking where I got them," she said. "They were getting a new surgical mask every five to seven days. People were reusing N95s and face shields. I was able to leave a lot of masks there, which is really a small drop of what they need."
Wagner expected the large flow of patients, but even at a rate that is now reduced from the peak in April, it was still bracing.
"The flow was constant," she said. "My team saw 16 people my first day. There were still patients coming in on ambulances requiring intubation and central line placement on a daily basis."
"We also saw a lot of patients who had symptoms in April coming back with secondary symptoms," she said. "We had just three or four patients the whole time I was there who came to the ED with non-respiratory ailments."
Wagner said it was clear that patients were scared. "They were very much aware of the symptoms and everyone knew someone who had COVID-19," she said. "It's a weird environment because everyone is masked and patients can't really see you. You have to work hard to ease some of their fear."
"The flow was constant," she said. "My team saw 16 people my first day. There were still patients coming in on ambulances requiring intubation and central line placement on a daily basis."
For all the toughness and caring of the New Yorkers, Wagner said, she could see how the effort, the difficult choices and the losses have taken a toll on the health care workers.
For instance, simply the time needed to put on personal protective equipment, then take it all off for a break, then put it back on, adds yet another layer of stress as workers have to calculate every move during the day.
"In the break room or after a shift, a lot of people were resistant to even talking about their experience at the height of the curve," Wagner said. "I think it was very stressful and very traumatic for them to see how fast patients got sick. The care teams would do so much intervention but patients wouldn't improve. That's hard to see."
When Wagner returned to Sacramento, she had to isolate before returning to the medical center. That's when she got another odd surprise.
"I kept thinking, 'Why is it so quiet?'" she said. "The environment there was so loud and busy. There were lights and alarms going off, people running from here to there, always something or somebody with immediate needs. When I got home, the stillness seemed so weird. For a couple nights, I dreamed I could hear monitors going off."
Something else keeps coming to mind for Wagner, too.
"I keep thinking, the health care people there are amazing. And I keep thinking about all the kind and brilliant things our people do here," she said. "There are so many wonderful people in health care. It's always good to remember that."