Peregrine eggs may hatch this weekend
(SACRAMENTO)
If you're a fan of UC Davis Medical Center's peregrine falcons, you've been waiting patiently for the past month for the arrival of this year's hatchlings. The mother peregrine is currently nestled atop four eggs. Our resident falcon expert Bill Corbett said they may start to hatch as early as tomorrow. If all goes well, it can still take several days for all the chicks to emerge from their eggs.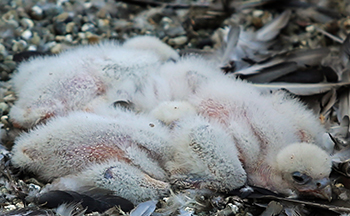 Once it emerges from an egg, a peregrine chick changes very rapidly. Weighing about 1.5 ounces at birth, the tiny chicks will be feeble and slightly pink as their white downy feathers fill in. Since they can't regulate their own temperature for the first week or so, a parent (mostly the mom) will keep them warm.
Within five days, a chick's weight will double. The siblings will continue to huddle and sleep in what looks to be a furry white pile. But they should be able to sit up slightly, too.
After about 14 days, the chicks will be walking around and eating with enthusiasm, as mom and dad peregrines fly in and out with tasty morsels.
Within three weeks, the chicks will be very active and by mid-June, they'll be flying and leaving the nest. So, stay tuned for this season's peregrine falcon saga. It could really take off this weekend!