With California in the grips of a drought, UC Davis Health conservation efforts save precious water
With Gov. Gavin Newsom expanding a drought emergency to much of the state earlier this week, Californians are being asked to reduce water use whenever and wherever possible.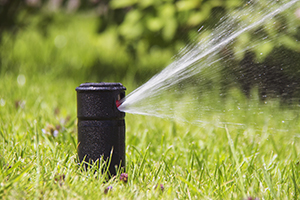 Thanks to concerted efforts in recent years, UC Davis Health has a head start on water-wise technologies and practices.
In 2019, UC Davis Health Plant Operations and Maintenance (PO&M) plumbers upgraded faucets, toilets, and showers around the Sacramento campus to lower their water usage. And last year and earlier this year, PO&M made improvements to systems that cool medical vacuum systems and MRIs and optimized operations of the Central Plant to conserve water.
Taken together, these changes are saving 12 million gallons of water each year.
"UC Davis Health is committed to finding solutions that reduce our environmental impact, and cutting back water use – while maintaining a high level of quality in care and facilities – is a major component of our sustainability efforts," said UC Davis Health Energy Manager Dan Mendonsa.
The PO&M Grounds crew also has been reducing water use on landscaping across the Sacramento campus by changing to drought-tolerant plants and applying water-efficient techniques (e.g., cutting the grass higher, mulching and watering at night). They will also be upgrading the irrigation controllers to weather-based units, which can reduce water use by 30% by only watering plants when needed and turning off when it's windy or rainy.
Be water-wise at home

For resources on how you can reduce your water usage at home or in your yard, check out Be Water Smart and the SMUD Energy Store site.
With 40% of total water usage on the Sacramento campus going to the Central Plant to provide electricity, cooling, heating and steam for buildings, PO&M is also working to conserve water by saving energy.
The PO&M electricians have replaced most of the exterior lights with LEDs (more will be replaced this fall) and have been replacing the interior lights with LEDs. Additionally, the PO&M HVAC Shop is tuning up the building HVAC systems to operate more efficiently and provide better comfort.
"Every little bit helps in the effort to reduce water usage, which of course is even more important during drought conditions," Mendonsa said. "And everybody at UC Davis Health has a role in water conservation too – by reporting any water leaks to 916-734-2763 and sending us your water reduction ideas to hs-energy@ucdavis.edu."