Young man's scary injury benefits from spine center skill and expertise
(SACRAMENTO)
Evan Beauchamp has no sweet or fun memories of Halloween morning 2020, the day that he nearly ended up paralyzed for life.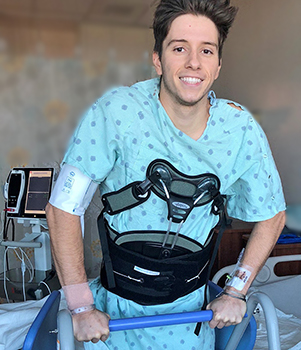 The 24-year-old Rocklin resident had joined a friend in a quad style all-terrain vehicle for a spin through the pastureland near his friend's home. What they didn't see was a ditch that stopped the ATV suddenly in its tracks. It violently catapulted the two young men into the field, knocking them both unconscious.
"I don't know how long I was knocked out," said Beauchamp, who had moved back home shortly before the pandemic began after graduating from UCLA. "I tried to move my legs, and that was a bad story. I couldn't do it. I tried to move around and sit up and was in intense pain. I put two-and-two together: 'No way. I just broke my back. I'm paralyzed. This is unreal.'"
Neither Beauchamp nor his friend had brought their cell phones along for the ride. It took hours for his friend to regain consciousness and finally walk to his house to get help.
Beauchamp was taken to a nearby Placer County hospital, where it quickly became apparent that his injuries, which included six broken ribs and a punctured lung, were beyond the expertise of the available surgeons.
Although Beauchamp had suffered what is known as a thoracic spinal column dislocation, his spinal cord and nerves were still intact. Life-changing spinal dislocations can occur when one or more of the vertebrae are moved from their normal position in the spinal column. There was a small chance, in the skilled hands of the right surgeon, that Beauchamp could walk again.
The Placer County emergency team placed a call to UC Davis Medical Center. The medical center's renowned Trauma Service, which cares for the vast majority of trauma victims admitted to the hospital, coordinated Beauchamp's transfer to Sacramento. The service is primarily responsible for a wide range of injuries, including injuries to the neck, chest, and abdomen, as well as injuries to blood vessels involving the heart and other organs. It connected him with the Department of Orthopaedic Surgery team, which is also among the nation's best. One of its top spinal surgery experts, Eric Klineberg, happened to be on call that day. The imaging of Beauchamp's spine revealed an extremely challenging and traumatic injury.
The spinal column
The spinal column is divided into several different sections. The thoracic section, which begins at the base of the neck and extends to about the bottom of the rib cage, is made up of 12 vertebrae (known as T1-T12). To realign the damaged vertebrae and stabilize the spine, Dr. Klineberg and his orthopaedic surgery team needed to stabilize and realign Beauchamp's dislocated vertebrae.
"Evan had a very high chance of becoming a paraplegic," said Klineberg, professor of Orthopedic Surgery, co-director of the UC Davis Spine Center, and co-author of numerous research studies related to orthopaedics and spinal surgery.
"The images [of Beauchamp's spine] were horrific to look at," added Klineberg, noting that while Beauchamp had regained some movement in his left leg, he still had no movement in his right one.
Klineberg and his team spent nearly eight hours delicately removing any pressure on the spinal cord, and then focusing on realignment and stabilization. They inserted a series of titanium screws and rods into Beauchamp's spine to provide support and help protect it during the healing and rehabilitation process.
Healing and regaining strength
Beauchamp spent a month recovering at the medical center before going home. He had no movement in his right leg for three weeks and couldn't move his right ankle for two months after surgery. But over time, and with hard work and determination, movement and feeling began slowly returning.
He credits Klineberg, along with UC Davis Health's Physical Medicine and Rehabilitation team and its daily therapy sessions, with helping him avoid paralysis. Clinical expertise and therapy were complemented by Beauchamp's own dedication to fitness before the accident, especially his gym workouts with powerlifting.
As he told himself when he was recovering from his spinal surgery at UC Davis Medical Center, "I'm not going to be in a wheelchair for the rest of my life. I'm going to keep moving forward every day."
"Evan has made a nearly miraculous recovery," said Klineberg, who's been pleased with his patient's progress and impressed by his dedication to regaining strength and movement. "His fitness and exercise routine certainly contributed to his healing and well-being."
Six months after the accident, Beauchamp is putting his math and economics degrees to work in a job at a Roseville-area financial firm. He's now able to walk two miles around his neighborhood and is trying hard to resist doing too much weight training too quickly.
Thanks to Eric Klineberg, the UC Davis Spine Center and Physical Medicine and Rehabilitation teams, Evan Beauchamp is definitely getting stronger and moving forward each day.