Facts and Figures
At UC Davis Health we're honored to improve lives and transform health care through excellent patient care, groundbreaking research, innovative interprofessional education, and dynamic community partnerships.

Patient care
Nationally renowned UC Davis Medical Center is a leading referral center for the most seriously injured or ill patients and the most medically complex cases. Selected highlights:
UC Davis Medical Center operates the only level 1 trauma center for both adult and pediatric emergencies in inland Northern California.
UC Davis Medical Center was granted Magnet® recognition by the American Nurses Credentialing Center (ANCC), considered the nation's highest form of recognition for nursing excellence.


In fall 2018, our new and improved UC Davis Children's Surgery Center opened. The new state-of-the art pediatric facility includes seven larger and more effectively designed operating rooms, a technologically advanced fleet of surgical equipment, and 24 pre- and post-op bays.


For the ninth consecutive year, UC Davis Medical Center was recognized as aLeader in LGBT Healthcare Equality in 2019 in the Healthcare Equality Index, an annual survey conducted by the Human Rights Campaign Foundation.

Hospital, patient statistics (for year ending June 30, 2018)
| | |
| --- | --- |
| Licensed beds | 625 |
| ER visits | 80,574 |
| Clinic/office visits | 908,542 |
| Admissions* | 34,763 |

* Inpatient admissions; does not include 7,188 observation days.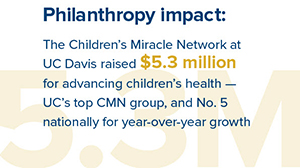 Discovery
UC Davis Health research includes clinical, translational and basic-science studies, with an emphasis on collaboration and on improving health for individuals, communities and populations. Selected highlights:
Nearly 1,000 studies are underway in basic-science, translational and clinical research areas, funded by federal and state governments, the pharmaceutical and biotechnology industries, private foundations and philanthropy. Some research strengths include:
Cancer
Cardiovascular health
Epidemiology
Evidence-based clinical care
Health disparities
Health policy
Human molecular genetics
Infectious disease
Injury and healing
Lifespan health
Neurosciences
Regenerative medicine


External research funding: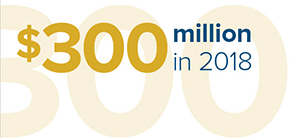 Ten UC Davis Health departments ranked in the top 30 nationwide for National Institutes of Health funding in 2018.

Some UC Davis Health research partners:
The National Institutes of Health
Shriners Hospitals for Children - Northern California
VA Northern California Health Care System
David Grant Medical Center at Travis Air Force Base
California Institute for Regenerative Medicine
California departments of Public Health and Health Care Services
The Center for Information Technology Research in the Interest of Society
Private industry, venture capitalists and regional entrepreneurs
Patient-Centered Outcomes Research Initiative (PCORI), California Association of Health Facilities (CAHF) and Alameda County Care Alliance
Other UC entities, nationwide academic institutions, philanthropic foundations and individuals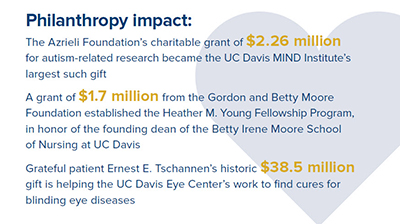 Education
Innovative UC Davis interprofessional education gives the health care workforce of tomorrow the skills and values needed to lead change and improve health for all. Selected highlights:
U.S. News & World Report consistently ranks UC Davis School of Medicine among the nation's best for primary care and research, including the top 10 for primary care training.


U.S. News & World Report also ranks the Betty Irene More School of Nursing at UC Davis among the nation's best for master's-degree nursing programs.


Faculty, alumni and community mentors prepare tomorrow's primary care physicians to help the underserved through special programs and tailored educational tracks such as Rural-PRIME, SJV-PRIME/REACH, TEACH-MS, Prep Médico and ACE-PC. ACE-PC and Prep Medico are partnerships with The Permanente Medical Group.


Betty Irene Moore School of Nursing alumni (406) surpassed current students (323) for the first time in 2018.


For more than 40 years, UC Davis students have volunteered hundreds of hours a year in free community clinics delivering care for underserved populations.


The Center for Health and Technology provides medical and nursing students, clinicians and health professionals a broad spectrum of opportunities for leading-edge telehealth practice, simulation education and distance learning access.


Faculty, staff and students:
School of Medicine, Betty Irene Moore School of Nursing and Medical Center
Faculty and academic personnel, full- and part-time
1,526
Residents and Fellows
933
Students
1,009
Staff, full- and part-time
11,310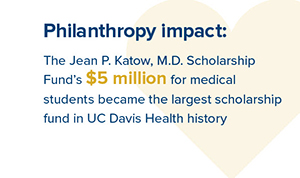 Community engagement
UC Davis actively engages with the diverse communities it serves in Sacramento, Northern California and beyond. Selected highlights:
UC Davis Medical Center plays an active role in protecting the community from infectious disease outbreaks and pandemics.
UC Davis partners with dozens of community organizations and events, including the popular Sacramento Republic FC and the California International Marathon.
The Betty Irene Moore School of Nursing partners with more than 350 clinical sites and community agencies for its education and research programs.
UC Davis programs train providers, instructors, safety officials and others to use technology-enabled health care; offer community workshops to increase health and science literacy; encourage students from diverse backgrounds to consider health careers.