COVID-19 Labor Day playbook: Keep it small. Wear masks. Hold at 6 feet. Don't give in.
Holiday weekend is a crucial moment to get the coronavirus under control
(SACRAMENTO)
The last hoorah for a very strange summer is coming this Labor Day weekend and UC Davis Health infectious disease and public health leaders are offering a combo of praise and warning: We're making progress on COVID-19 — don't blow it.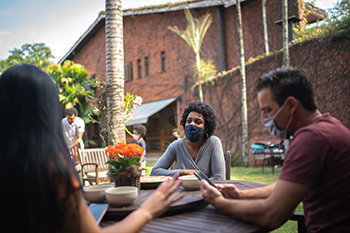 Infection rates are generally trending down slightly in California, but other holidays this summer have fueled explosions of coronavirus transmissions. We are at a critical crossroads in the fight against COVID-19.
The nationwide summer surge began with careless Memorial Day gatherings. What happens this weekend could determine the path COVID-19 takes for months — and how open or closed communities might be the rest of the year.
"Right now, this epidemic is driven by behavior," said Brad Pollock, chair of the UC Davis Health Department of Public Health Sciences. "It's not a lack of tests or therapeutics. It's behavior. We can slow COVID-19 if we all work together."
The progress against the coronavirus is fragile. For example, he said, look at the infections that erupted at many college campuses — fueled in big part by parties and large gatherings — just a few days after they started full in-person classes. Some of the many examples:
The University of Alabama in Tuscaloosa reported more than 1,000 cases.
The University of North Carolina at Chapel Hill switched to online classes one week into the semester. Its dashboard reported more than 800 cases and a positive test rate above 31%.
The University of Iowa reported more than 600 cases and the University of Kansas reported nearly 500 infections.
More than 300 cases were found at the University of Missouri in Columbia with a positive test rate of more than 44%.
Michigan State, North Carolina State and others went back to online classes for the fall, while Notre Dame stopped in-person classes for at least two weeks.
"It can spread so fast. We can't let ourselves reverse the progress … This is not a time to say, 'Things are better.' This is a time to be better. Wear a mask. Stay 6 feet apart. All of us can help each other and our communities by keeping up the cautions."
– Brad Pollock
(UC Davis is waiting for guidance from public health officials to decide if it will be able to offer even a small number of in-person classes in the fall quarter.)
"It can spread so fast," Pollock said. "We can't let ourselves reverse the progress. We're turning the corner. We can't repeat Memorial Day weekend. A new surge means closing things down, maybe until the end of the year, and it means many people will get sick and some will die."
Pollock said he is hopeful most people understand the critical importance of tamping down their Labor Day doings.
"This is not a time to say, 'Things are better,'" he said. "This is a time to be better. Wear a mask. Stay 6 feet apart. All of us can help each other and our communities by keeping up the cautions."
How to enjoy the weekend: Keep it outside and keep it small.
"If you want to get together, do it responsibly," said Dean Blumberg, chief of pediatric infectious diseases at UC Davis Children's Hospital. "That means keep your 6-foot distance, wear a mask, stay outside and just gather with a couple people. None of this is new, but it is more important than ever. This is a national holiday. Let's take care of each other."
The value of staying outside
"Being outside helps because the air flow dilutes the virus," Blumberg said. "That's why it's so important to social distance. It will provide a great deal of protection outside."
On the other hand, if the party wanders indoors, everyone is at risk, partly because it is much more difficult to maintain that social distancing inside and because there is much less air flow to dilute the virus, even with windows open.
"There is a much larger volume of air outdoors," Blumberg said. "We saw the value of that with the recent protests. I'm not aware there were outbreaks related to the protests, but there were big spikes from bars and social events in people's homes."
Why size matters
The obvious reason is that small gatherings allow room to physically distance. Less obviously, small gatherings also make it harder for people to forget to distance.
"It's just human nature to move closer to friends and family at a party," said Natascha Tuznik, assistant clinical professor of infectious diseases. "And if you've been hanging out a while, eating and drinking, you just forget to be careful. So, try to prevent any problems ahead of time."
It's largely unnoticed, but California still bans all private gatherings in Sacramento County for people not living in the same household. County officials have said they understand friends and family will still gather, but they urge everyone to keep it to very small groups — like four or six people maximum.
"Give yourself plenty of room to keep people at least 6 feet apart," Tuznik said. "If you plan it right, you can remove temptations for people to get too close and you won't have to worry about them forgetting to distance."
How to remove temptations to get too close
Mark off 6-foot distances for tables or zones for each household to put their chairs, if they're bringing their own.
Set up tables for each household with clean plates and utensils.
Set a few "visitors chairs" 6 feet from each table so people can mingle.
Don't have communal appetizer or condiment stations.
Give every table small bags of chips or nuts or some other party munchies. And give each table their own dips, salsas or condiments.
Put masks on each table as party favors, and in case someone did not bring one.
Tips for food
"There is no evidence that food transmits the virus," Blumberg said. "The risk comes from people getting too close when they serve or eat it."
One easy solution is to have people bring their own food. But if you want to cook, here is a way to do it safely:
Have one person with thoroughly washed hands prepare the food.
Put the helping for one household on a serving plate or bowl and place it 6 feet from everyone. Then, that household can pick up their food and bring it back to their physically distanced table.
Repeat for the next household/table.
"If you want to get together, do it responsibly. None of this is new, but it is more important than ever. This is a national holiday. Let's take care of each other."
– Dean Blumberg
"It's not the fun of gathering around the grill," Tuznik said. "But there won't be utensils or serving bowls handled by multiple people, and everyone can maintain their physical distance."
BYOB?
"It's definitely safer if everyone brings their own beverage," Tuznik said. "But whatever you do, avoid any community pouring like pitchers, shared bottles or kegs."
However, there is a way to have a distanced-but-shared pour. Person A puts her empty glass on a table and backs away 6 feet. Person B pours wine or some beverage, then moves away. Person A retrieves her glass.
The restroom conundrum
"This is a sticking point for anything we do now," Tuznik said. "If people are not wearing masks, ask them to put one on before they go inside."
Other tips:
If you have two bathrooms, dedicate one for guests.
Put out liquid soap and paper towels — with strips pre-separated.
Create a hand sanitizer station for people to clean their hands before they come inside.
Limit guests to one person in the house at a time.
Space out guest restroom visits with a few minutes between them.
Safest of all: Wait until next year
"My birthday is close to Labor Day," Pollock said. "I really like to have big parties. It's a nice day to get together. Almost everyone is off work and we still have some summer. I really enjoy those parties — but not this year. I'm looking forward to the party we'll have next Labor Day."
Pollock said think about it this way: Not having a party is doing a good deed for friends, family and the people in your community.
The Centers for Disease Control and Prevention said two-thirds of COVID-19 infections come from people not showing symptoms – either because they're asymptomatic or the symptoms haven't developed yet. That means you can't know if a friend &mdash or you &mdash could be transmitting the coronavirus.
"Any one of us can make things much worse if we're not careful," Pollock said. "But each of us can help make things better."