COVID-19 vaccine is not the only shot in the arm that saves lives
New study looks at why HPV vaccine runs into obstacles when it comes to vaccine hesitancy
(SACRAMENTO)
The vaccine that protects against the human papilloma virus (HPV) has notoriously low acceptance rates compared with other adolescent vaccines, and UC Davis Health researchers are trying to figure out why. This very common virus can cause six types of cancer, which the HPV vaccine is highly effective in preventing, according to the American Cancer Society.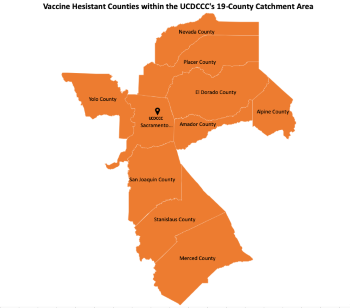 Just like the COVID-19 vaccine, the challenge is understanding why certain populations are more hesitant than others to receive vaccines.
Thanks to a new National Cancer Institute grant, the UC Davis Comprehensive Cancer Center is expanding its study into why certain populations are more prone to say "no" to the HPV vaccine. The new study, called UC HPV , starts this week and runs through June 30, 2021.
"We want to understand where HPV vaccine hesitancy stems from and how these sources influence the rate of HPV vaccines given to adolescents, which is a key age," said Julie Dang, executive director of the UC Davis Comprehensive Cancer Center Office of Community Outreach and Engagement.
Building upon success of earlier outreach
The effort builds upon a HPV preliminary study conducted in the UC Davis Comprehensive Cancer Center's 19-county catchment area that focused on examining local factors associated with HPV vaccination rates among adolescents. UC HPV is taking this a step further by exploring communities that expressed hesitancy about the HPV vaccine in the first study.
Similar to the initial study that began in 2017, the new NCI supplemental one-year grant will assess factors related to vaccine hesitancy among these groups, then pilot tailored interventions.
"Through our survey and interviews we found HPV vaccine hesitancy sentiments in our rural and agricultural counties as well as in our Slavic communities," said Dang. "This is why we wanted to focus on these groups: rural populations, Latino agricultural workers as well as the Slavic communities for UC HPV."
Who can participate?
Individuals 18 years or older living or working in Alpine, Amador, El Dorado, Nevada, Merced, Placer, Sacramento, San Joaquin, Stanislaus or Yolo counties.
In particular, the study team is hoping to recruit participants from the Slavic community in Yolo and Sacramento counties as well as Latinos from Merced, San Joaquin and Stanislaus counties. The team said the preliminary study also indicated high rates of vaccine hesitancy in the rural parts of Alpine, Amador, El Dorado, Nevada and Placer counties, so they would like to recruit heavily in those populations as well.
What is expected of participants?
Eligible participants can choose to be a part of a focus group, take part in a survey or be interviewed by the UC Davis research team.
Completing the survey will take about 20 minutes and, upon completion, participants will receive a $10 gift card from either Amazon, Target or Walmart.
Those who choose to take part in a focus group or interview to share their personal experiences and perspectives can expect to spend about an hour of their time and will receive a $40 gift card from Amazon, Target or Walmart.
Study participation is 100% voluntary and the responses are recorded anonymously and without any identifying information.
To learn more about the HPV study, watch the Spanish informational video or the English informational video as well as find additional information provided on the HPV study website where you can also sign up to become a study participant.
Taking action on multiple fronts
The cancer center has a clear mandate to reduce disparities in health outcomes, explained Moon Chen, Jr., associate director for the Office of Community Outreach and Engagement who is proud of the many efforts the cancer center is taking throughout the region through cancer prevention such as tobacco use abatement and HPV vaccination promotion, increasing access to screenings and laboratory-based work to uncover the genetic bases of disparities.
"No population is too hard to reach, it's just that they are hardly reached," he concluded. "The UC Davis Comprehensive Cancer Center is working to change that."
UC Davis Comprehensive Cancer Center
UC Davis Comprehensive Cancer Center is the only National Cancer Institute-designated center serving the Central Valley and inland Northern California, a region of more than 6 million people. Its specialists provide compassionate, comprehensive care for more than 10,000 adults and children every year, and access to more than 150 clinical trials at any given time. Its innovative research program engages more than 280 scientists at UC Davis who work collaboratively to advance discovery of new tools to diagnose and treat cancer. Patients have access to leading-edge care, including immunotherapy and other targeted treatments. Its Community Outreach and Education program addresses disparities in cancer outcomes across diverse populations, and the Center provides comprehensive education and workforce development programs for the next generation of clinicians and scientists. Through the Cancer Care Network, UC Davis partners with hospitals and clinical centers throughout the Central Valley and Northern California communities to offer patients expert care close to home. For more information, visit cancer.ucdavis.edu.