New screening guidelines may help reduce lung cancer disparities
Black people, women and younger smokers to get access to life-saving lung scans
(SACRAMENTO)
New lung cancer screening guidelines recommended by the U.S. Preventive Services Task Force will help address health disparities and catch more cases of lung cancer, earlier. The goal is to reduce the number of deaths from the biggest cancer killer in America.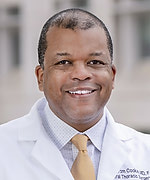 "More Black smokers and women will be eligible," said David Cooke, chief of the new UC Davis Health Division of General Thoracic Surgery. "The new guidelines are not a panacea because actual screening rates, especially among communities of color, are abysmally low, but the new guidelines will no doubt save more lives."
Blacks, women and younger people tend to smoke less, which means they often don't meet existing screening thresholds, despite being at risk for lung cancer. The task force recommendation means private insurers must offer the screening without a copay to those who are eligible.
Under the new guidelines, anyone between the ages of 50 and 80 who has smoked at least 20 "pack-years" and either still smokes or quit within the last 15 years will be eligible. A "pack-year" means smoking a pack of cigarettes a day for a year or an equivalent amount.
Someone could qualify by smoking pack a day for 20 years or two packs a day for 10 years. Since 2013, low-does CT scans have only been recommended for heavier smokers (30 pack-years), starting at age 55.
Lung Cancer Symptoms
• A cough that does not go away or gets worse
• Coughing up blood or rust-colored sputum (spit or phlegm)
• Chest pain that is often worse with deep breathing, coughing, or laughing
• Hoarseness
• Loss of appetite
• Unexplained weight loss
• Shortness of breath
• Feeling tired or weak
• Infections such as bronchitis and pneumonia that don't go away or keep coming back
• New onset of wheezing
Lung cancer is the nation's leading cancer killer of both men and women, according to the American Lung Association (ALA). Smoking causes nearly 90% of lung cancer cases and, unfortunately, over 70% of lung cancer cases are diagnosed at an advanced stage when survival rates are low.
Nearly 160,000 Americans die from lung cancer annually, which is more than deaths than from breast, colon, prostate and pancreatic cancers combined, but studies show only about 5% of those eligible for lung cancer screening get screened.
ALA reports that Black Americans with lung cancer were 16% less likely to be diagnosed early, 19% less likely to receive surgical treatment, and 7% more likely to not receive any treatment compared to white Americans.
"There are still plenty of barriers to getting screened, including lack of access to health care," said Cooke.
UC Davis Health is committed to improving access to lung cancer screenings and started a multidisciplinary Comprehensive Lung Cancer Screening Program in 2013. For more information on how to get a lung cancer screening, call 916-734-0655 or contact your primary care physician.
UC Davis Comprehensive Cancer Center
UC Davis Comprehensive Cancer Center is the only National Cancer Institute-designated center serving the Central Valley and inland Northern California, a region of more than 6 million people. Its specialists provide compassionate, comprehensive care for more than 10,000 adults and children every year, and access to more than 150 clinical trials at any given time. Its innovative research program engages more than 280 scientists at UC Davis who work collaboratively to advance discovery of new tools to diagnose and treat cancer. Patients have access to leading-edge care, including immunotherapy and other targeted treatments. Its Community Outreach and Education program addresses disparities in cancer outcomes across diverse populations, and the Center provides comprehensive education and workforce development programs for the next generation of clinicians and scientists. Through the Cancer Care Network, UC Davis partners with hospitals and clinical centers throughout the Central Valley and Northern California communities to offer patients expert care close to home. For more information, visit cancer.ucdavis.edu.