Summer parties and COVID-19 can mix – if you're careful
UC Davis Health experts: Keep summer gatherings outside, spaced out and small
(SACRAMENTO)
Before COVID-19 appeared, summer parties and backyard barbecues were so easy. Just invite everyone, toss something on a grill, pile food on a table and yell, "Dig in." Even easier, beverages were often BYOB.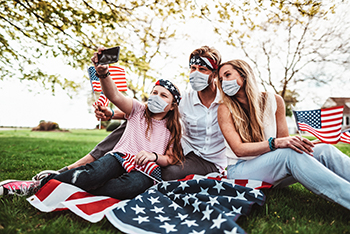 In the era of COVID-19, the safest summer parties are BYOE – bring your own everything – from drink and food to chairs. And they are small, said UC Davis Health infectious disease experts.
"We have seen that COVID-19 is still a threat," said Natascha Tuznik, assistant clinical professor of infectious disease. "We can't just wish it away, even though we miss our friends."
Tuznik said don't forget that one of the major sources of the increased spread of COVID-19 has been private parties and family gatherings.
"No one wants to infect their family," she said. "That's why you have to plan your gathering carefully. The best summer parties are the ones where we keep our friends and family safe."
Planning your party: Stay outside and keep your social distance.
There are two crucial guidelines:
Keep it outside.
Keep people at the 6-foot physical distance.
"If you are going to socialize or have any gatherings, you need to do it outside," said Dean Blumberg, chief of pediatric infectious diseases at UC Davis Children's Hospital. "Being outside helps because the air flow dilutes the virus. That's why it's so important to social distance. It will provide a great deal of protection outside."
Size matters
That's also why it's important to keep the party small. Give yourself room to space tables and chairs 6 feet apart. It's also easier to remind people to keep their distance with a smaller group.
For what it's worth, California bans all private gatherings in Sacramento County for people not living in the same household. The county wanted to allow gatherings of up to 10 people, but the state said no.
However, county officials said they understand people will gather anyway, so they urge everyone do it as safely as possible – which includes all of Blumberg's and Tuznik's advice to stay outdoors, maintain social distancing, wear masks when possible and keep the group size to just a handful of people, said Janna Haynes, Sacramento County Public Information Officer.
Advice for setting up
If you have disposable gloves, wear a pair when you set up. Or wash your hands well first.
Be sure to disinfect chairs and tables and any surfaces your guests may touch.
"Remember," Tuznik said, "most cleaners need a minimum of one minute of contact time to effectively disinfect before you can wipe the surface dry."
If you can't find disinfectant, Tuznik has a formula for an effective and safe-to-use home cleaner: Add four teaspoons of bleach per quart of room temperature water. Keep the surface wet at least one minute, then wipe it dry.
It will remain an effective disinfectant for 24 hours, so it's best to make the solution the day you clean.
Also, set up a couple hand-sanitizing stations – which can be just a bottle of hand sanitizer on a small table.
More setup advice for tables and chairs:
Mark off 6-foot-distances and create zones for each household to put their chairs, if they're bringing their own.
Set up tables for each household with clean plates and utensils.
Set a few "visitors chairs" 6 feet from each table so people can mingle.
Give every table small bags of chips or nuts or some other party munchies. And give each table their own dips, salsas or condiments.
If you have them, put a small bottle of hand sanitizer on each table as a party favor.
Are masks required?
"It's best if everyone wears a mask when they aren't eating or drinking. But it's summer and it'll be hot. That's asking a lot of people – if they stay outside and are socially distancing," Tuznik said. "But if they move closer – which we strongly recommend against – definitely wear masks."
Remember, wearing a mask not only protects the people around you, it also protects you, Blumberg said.
"If you care about staying healthy and protecting your friends and family, you'll wear a mask," he said.
BYOE or prepare food?
It's safest for everyone to bring their own food, although there is no evidence that the virus is transmitted by food, Tuznik said. But your communal contact with surfaces, serving utensils or platters could spread the virus.
But there are ways to reduce the risk of serving your guests, if you remember one key point:
"Less risk does not mean no risk," Tuznik said.
Tips for serving food – if you must.
Have one person – wearing a mask and gloves (or with thoroughly washed hands) – prepare the food.
Then put the helping for one household on a serving plate or bowl and place it 6 feet from everyone. Then, that household can pick up their food and bring it back to their physically distanced table.
Repeat for the next household/table.
"It's not the fun of gathering around the grill," Tuznik said. "But there won't be utensils or serving bowls handled by multiple people, and everyone can maintain their social distance."
BYOB?
"This one is definitely safer if everyone brings their own beverage," Tuznik said. "But whatever you do, avoid any community pouring like pitchers, shared bottles or kegs."
However, there is a way to have a contactless shared pour. Person A puts her empty glass on a table and backs away 6 feet. Person B pours wine or some beverage, then moves away. Person A retrieves her glass.
The restroom conundrum
"This is a sticking point for anything we do now," Tuznik said. "If people are not wearing masks, ask them to put one on before they go inside."
Other tips:
If you have two bathrooms, dedicate one for guests.
Put out liquid soap and paper towels – with strips pre-separated.
Create a hand sanitizer station for people to clean their hands before they come inside.
Limit guests to one person in the house at a time.
Space out guest restroom visits with a few minutes between them.
What about a pool party?
"The virus is not transmitted by water," Blumberg said. "It's fine to swim in the pool. But everything else about social distancing applies."
That means do not share pool floats, keep the households – and their kids – separate, and most likely no pool games.
No matter what you do, keep in mind Blumberg's advice throughout the party:
"It's vitally important to remember that proper mask wearing, hand hygiene and physical distancing remain the best precautions against infection," he said.
Related stories
4th of July and COVID-19: How to celebrate safely and avoid the novel coronavirus