UC Davis Health researcher to study lung cancer in Asian American women
Professor Moon Chen wants to learn why 90% of Chinese women with lung cancer are non-smokers
(SACRAMENTO)
UC Davis and UC San Francisco have received a $3.35 million grant to study a health disparity that has perplexed researchers for years: Why Asian American women who never smoked tend to get lung cancer.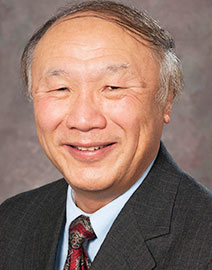 More than half of all Asian American women with lung cancer in the United States do not smoke.
"The phenomenon among Chinese is that lung cancer is the leading cause of cancer death of Asian women, but nearly 90% of Chinese women with lung cancer have never smoked," said UC Davis Health Professor Moon Chen, a nationally known expert in cancer health disparities.
"It's an anomaly, it's a mystery," he said.
Chen is one of three principal investigators on the National Institutes of Health grant, awarded through the National Institute on Minority Health and Health Disparities. The other investigators are Professor Scarlett Gomez and Associate Professor Iona Cheng, both from the UCSF epidemiology and biostatistics department.
Chen, associate director of Population Research and Cancer Disparities with the UC Davis Comprehensive Cancer Center, said the study will be the largest of its kind in the United States. It will be known as FANS, short for Female, Asian American, Never Smokers Study.
Researchers will tap the California cancer registry to identify 600 women who are so-called never smokers and have lung cancer. That population will then be compared with 600 other Asian American women who don't have lung cancer and are never smokers.
The study's participants will be in the Bay Area, most of whom are of Chinese, Korean, Japanese, Filipino and Vietnamese descent.
When the two study groups are compared, researchers will look at the women's lifestyle, environment, behavior and genomics.
While some studies in China attributed the disparity to the use of charcoal coals in cooking, Chen said it doesn't explain the high cancer rate in the United States, where people cook with electric or gas stoves.
Chen's best guess about the lung cancer disparity is that it's potentially due to a genetic mutation. The goal of the study, he said, is to answer that question and then prevent lung cancer in never smokers.