Medical-surgical nurses earn national recognition with the AMSN PRISM Award®
Tower 4 becomes only second unit west of the Mississippi River to receive the award twice
(SACRAMENTO)
The Tower 4 Ear, Nose and Throat/Internal Medicine Unit of UC Davis Medical Center has received the Academy of Medical-Surgical Nurses (AMSN) PRISM Award®. The national medical-surgical (med-surg) award recognizes the collective achievements and contributions of the unit's nursing staff.
The 28-bed medical-surgical unit, which specializes in pre- and post-operative Ear, Nose and Throat Cancers, is a two-time recipient of the AMSN PRISM Award® and only the second unit west of the Mississippi River to receive the recognition twice.
"We are honored to receive this award designation, which is an acknowledgment of the safe, high-quality care we deliver to our patients on a daily basis," said Emily Torres, nurse manager for the team known as Tower 4. "I am grateful for the collaboration this team has shown over the last two years, which highlights the importance of strong teamwork when providing patient care."
The award, which stands for Premier Recognition in the Specialty of Med-Surg, is the first of its kind honoring med-surg nursing units in the United States and internationally. It is co-sponsored by the Academy of Medical-Surgical Nurses (AMSN) and the Medical-Surgical Nursing Certification Board (MSNCB). The award is given to any individual acute care unit with a primarily adult and/or elderly patient population with medical-surgical diagnoses.
Wes Foster, president of the MSNCB Board of Directors, presented the Tower 4 team with the award during a ceremony on April 5.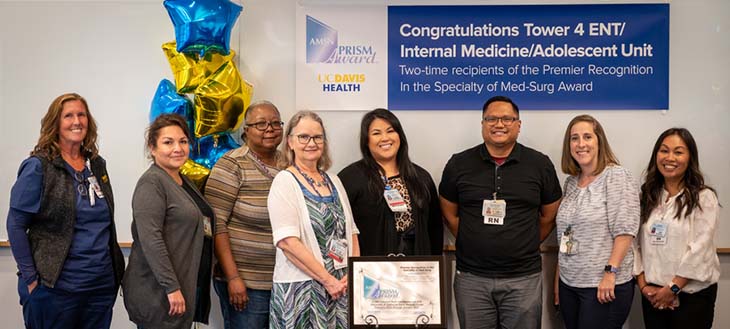 "The PRISM Award® is a recognition given to med-surg nurses from med-surg nurses," said Foster. "The exceptional work your team is doing is evident the second you walk through the door and your team should be incredibly proud."
The team achieved advanced practice scores in every category and earned a near-perfect score for the Healthy Practice Environment category. They received a perfect score for Leadership and Patient Outcomes. Out of a possible 600 points, they earned 576 points — the 3rd-highest ever recorded by AMSN.
"I congratulate the entire team for their work to create an environment that puts the patient at the center of everything we do," added Toby Marsh, chief nursing and patient care services officer for UC Davis Medical Center. "I truly appreciate an organization like AMSN, who recognizes the value of our med-surg nurses and the work they do every day."
There are more than 600,000 medical-surgical nurses practicing in the United States today, making them the single largest group of specialty nurses working in hospital settings, according to AMSN. Med-surg nurses oversee a broad spectrum of patient care responsibilities, another reason the acronym PRISM was chosen for the award.