New membership signals dedication to improving quality of nursing care for older-adult patients
(SACRAMENTO)
UC Davis Health begins 2021 with a commitment to improving the care that older adults receive, including enhanced knowledge of the team that provides that care.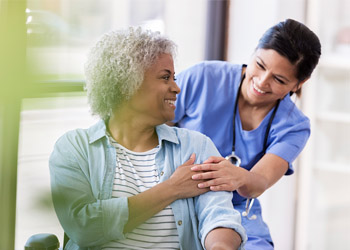 The health system has earned early membership in the NICHE (Nurses Improving Care for Healthsystem Elders) program of The Hartford Institute for Geriatric Nursing at New York University College of Nursing. NICHE membership demonstrates UC Davis Health's organizational commitment and continued progress toward improving quality, enhancing the patient and family experience throughout the health system. It also expands the system's Healthy Aging Initiative goal to create the healthiest and highest-functioning older adult population in Northern California due to the care, research and innovation at UC Davis Health.
"We recognize issues facing the aging population, such as hearing loss, cognitive decline, vision impairment, fall risks, and challenges with gait and balance. We have put the best practices in place to provide the best possible care," said Toby Marsh, chief nursing and patient care services officer at UC Davis Medical Center. "Our frontline nursing team is on the lookout for age-related changes that patients may be experiencing and implementing evidence-based best practices to address those issues, thus enhancing our patient care."
Anna Satake is a geriatric clinical nurse specialist who leads the UC Davis Health NICHE effort. The four-nurse team recently completed an 8-week leadership training program with a group of other hospitals across the country.
"By ensuring we have the knowledge and systems in place to create a more senior-friendly health system, we can help to decrease the potential risks and complications that older adults may encounter when hospitalized," said Satake, NICHE coordinator and doctoral student at the Betty Irene Moore School of Nursing at UC Davis. "The NICHE program guides us in our journey to create and implement our vision to provide compassionate and exceptional care to older adults through innovation, workforce education and age-friendly systems."
As a NICHE member, UC Davis Health now gains access to resources and tools to implement the NICHE program and achieve – and sustain – better care and outcomes for older adults. In 2021, they participate in a year-long, mentored clinical quality improvement project through which they learn about and begin to implement the NICHE practice model.
In the U.S., 10,000 Baby Boomers turn 65 every day. The number of Americans age 65 and older is expected to reach 70 million, or 20% of the population, by 2030. With age comes an increased risk of hospitalization.
At UC Davis Health, data show that over the past year 40% of the adult hospitalized patients were over the age of 65. The average direct cost of care for these patients is double that of a person under 65. This is because of increased comorbidities and higher risk for complications during hospitalization such as falls, delirium or infection.
Davis 14 is the pilot unit for UC Davis Health's NICHE program. Other nurses in the effort are Dorine Fowler, Davis 14 nurse manager; Ling Tieu, Davis 14 assistant manager; and Monica Aguilar, a clinical nurse educator. The team identified an interdisciplinary team, completed an analysis of current strengths and weaknesses, identified the top two priorities for improvement at UC Davis Health and conducted a return on investment (ROI) analysis. They also created a vision statement: to provide compassionate and exceptional care to older adults through innovation, workforce education and age friendly systems.
Satake said the next steps include:
Creating a program to train geriatric resource nurses
Working towards performance improvement projects focused on improving care for older adult
Submit for member designation in January 2022
Those who ultimately benefit from this work are patients from the 33-county area that UC Davis Health serves.