Nurse leader fellows publish landmark paper on role of historically Black colleges and universities
Black nurse scientists well positioned to address health inequities in Black communities
(SACRAMENTO)
The four Black nurse scientists in the inaugural cohort of the Betty Irene Moore Fellowship for Nurse Leaders and Innovators realized they were all graduates of historically Black colleges and universities (HBCUs) early on in the program. Since each was invested in research aimed at addressing health inequities in Black communities, they knew they were destined to impact the future of nursing.
The four were inspired by their shared experiences. They are
They began outlining a paper focused on the importance of promoting research careers at HBCUs to attract Black nurse scientists as future leaders in health inequities research.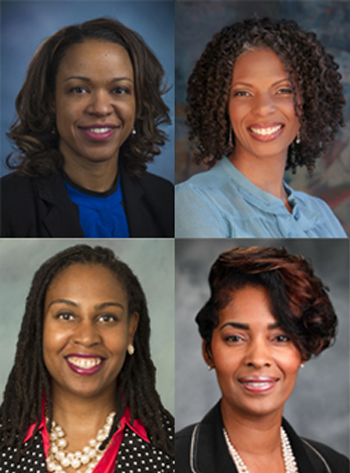 Their collaboration culminated this year in an Oct. 6 publication in the online issue of Nursing Outlook, the official journal of the American Academy of Nursing and the Council for the Advancement of Nursing Science. Their research paper "Black nurse scientists and the undeniable role of historically black colleges and universities" discusses the importance of such institutions and how nurses who graduate from these establishments are well positioned to address the health inequities in Black communities. Those inequities became even more apparent during the COVID-19 pandemic and ongoing systemic racism.
"I am excited to be able to highlight the HBCU nursing programs that inspired our nursing science careers," Aycock said. "I hope others can have similar experiences and even greater opportunities to be able to address health challenges through research."
Cothran said the paper is a call to action for the nation to support these programs.
"Our experiences are but a microcosm of the brilliant Black nurse scientists who have the expertise, innovation, creativity and training, and who are committed to addressing the complexities of health inequities," Cothran said. "It's important to invest in and collaborate with, but not overlook, HBCU scholars and graduates."
Strategies for advancing doctorally-prepared nursing science careers at HBCUs are outlined in the publication. They include charitable gifts and creative mentoring programs, partnerships, and collaborations with federal agencies, research-intensive institutions, and professional organizations.
They also detail how to create a culture within HBCU nursing programs focused on how research can improve health care and patient outcomes, as well as minimize health disparities and inequities.
"Fewer than 1% of nurse scientists are Black. HBCU nursing programs produce the highest number of Black nurses, but few have Ph.D. programs," Randolph said. "If we want to improve health disparities and inequities, an investment in these programs would help to do that. The return on that investment would be highly significant to the health care system and communities across this nation."
Alexander agreed it's time to make an investment in Black nurse scientists.
"I have so much hope that we can build structures to uncover the often-invisible talent contributing to the development of transformative knowledge within our discipline. Perhaps by implementing some of the strategies we suggest in this paper, we can spark innovative and creative partnerships that will foster growth and secure a stronger future for nursing science," Alexander said.
The four Betty Irene Moore nurse fellows are supported by Fellowship National Advisory Council Member J Taylor Harden, executive director emeritus of the National Hartford Center of Gerontological Nursing Excellence and visiting professor at the University of Texas at Austin School of Nursing and Heather M. Young, national program director for the fellowship program, both of whom are also authors on the paper. They began drafting their paper in 2020 with the financial support of the Gordon and Betty Moore Foundation.
Harden said she hopes the publication generates support for nursing programs at HBCUs and spurs financial support from the federal government.
"Increasing the number of Black nurse scientists in the United States is one step in the right direction that should allow us to better address the health inequities and disparities facing Black communities," Harden said. "Because of their advanced education, leadership and shared heritage, Black nurses seek not only to understand but to transform the sociostructural factors underpinning health inequities in Black communities and how to engage with members of the community."
"These fellows are doing such important work highlighting how the schools of nursing and education policy-makers can support the next generation of Black nurse scientists," Young added. "These nurse leaders and innovators bring an important perspective and will make a difference for nursing education, policy and research."