UC Davis Health leader elected president of The Gerontological Society of America
Terri Harvath brings decades of experience caring for older adults to the position
(SACRAMENTO)
Terri Harvath, of the Betty Irene Moore School of Nursing at UC Davis, is the new president of The Gerontological Society of America (GSA) — the nation's largest interdisciplinary organization devoted to the field of aging. She was elected by GSA's membership, which consists of more than 5,500 researchers, educators, practitioners and other professionals. Harvath was installed earlier this month.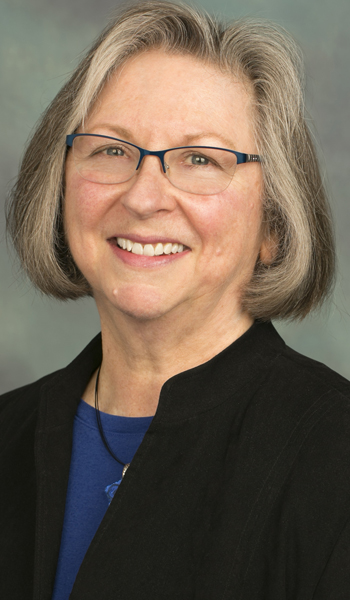 "We're proud to have one of our own leading this prestigious national organization focused on the growing older-adult population," said UC Davis Health CEO David Lubarsky. "Her expertise is well suited to lead national aging efforts and her spirit of collaboration will benefit the work we're doing at UC Davis Health and share what we're doing with others around the nation."
Harvath's new role puts her in a position to learn about cutting-edge issues impacting UC Davis Health's patients and caregivers and network with colleagues who can help ensure that the UC Davis Health Healthy Aging Initiative takes advantage of all the programmatic innovations that help older adults. As senior director for strategic initiatives at the School of Nursing, she leads initiatives and partnerships across UC Davis Health to ensure the best care, research and innovation for the older adult population.
UC Davis Health is already:
a world leader in Alzheimer's care and research, recently awarded the

largest grant ever from the NIH to the UC Davis School of Medicine

nationally ranked for inpatient geriatrics outcomes
home to a newly enhanced division of geriatrics and fellowships in 2020
committed to gaining certification as an age-friendly emergency department.
For the aging initiative, Harvath leads the committee overseeing the development of a new geriatric-focused clinic in midtown Sacramento.
"Our goal is to create the highest functioning older-adult population in Northern California through our care, research and education," Harvath said. "The collaboration fostered by GSA presents an incredible opportunity for me to connect with physicians, nurses, biologists, behavioral and social scientists, psychologists, social workers, economists, policy experts, and many other scholars and researchers in aging from more than 50 countries."
An internationally recognized expert in gerontological nursing and nursing education, Harvath is the 77th person to hold the office since the society was founded in 1945. As president, she oversees matters of GSA's governance and strategic planning, while also managing the program for GSA's 2021 Annual Scientific Meeting. She chose "Disruption to Transformation: Aging in the 'New Normal'" as the theme for this conference, scheduled for Nov. 10 -14 in Phoenix, Arizona. She also assumes the board of directors' chair position.
"2020 disrupted the lives of so many people across the globe. Between the pandemic, the acrimonious political climate, the protests against structural racism and the disasters wrought by climate change, no one was left untouched. Older adults, especially older adults of color, have borne a disproportionate burden of these events," Harvath said. "My sincere hope is that as we embark on this new year, we take the time to appreciate what is good and work together to create substantive change in how we care for the most vulnerable in our society."
Harvath also serves as the founding director of the school's Family Caregiving Institute, which launched in 2017 to advance research, education, and policy to support caregivers. The institute has hosted three international conferences and GSA workshops to broker valuable discussions on the role of family caregivers to older adults.
Prior to her UC Davis appointment, Harvath was the director of the Hartford Center for Geriatric Nursing Excellence and the Advanced Practice Gerontological Nursing Program at Oregon Health & Science University School of Nursing, where she was also a professor. She has 25 years of nursing education experience and 10 years' experience as a clinical nurse specialist and staff nurse. She earned a master's degree and a doctorate in nursing from Oregon Health & Science University and a Bachelor of Science Degree in Nursing from the University of Wisconsin, Madison.
"Whether in teaching, research or clinical practice, Dr. Harvath is passionate about the health and health care of older people, as well as their family caregivers," said GSA CEO James Appleby. "We welcome her leadership expertise and look forward to implementing her vision for society in the year ahead."