UC Davis nursing school announces 2021 nurse leader fellows
Group includes diverse group of nursing scholars and innovators from around the U.S.
(SACRAMENTO)
The national program office at the Betty Irene Moore School of Nursing at UC Davis today announced the 10 members of the second cohort of the Betty Irene Moore Fellowship for Nurse Leaders and Innovators.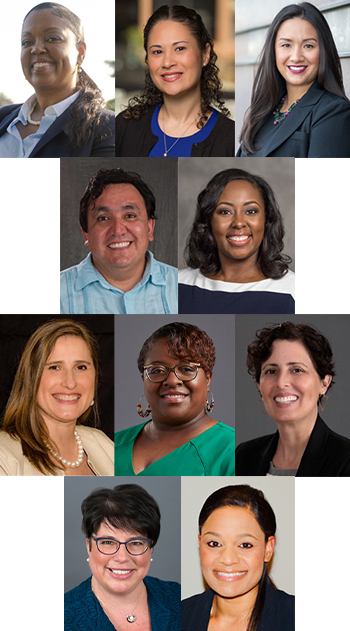 The fellows are affiliated with major public and private universities across the country. This year, two nurse leaders from health systems join the program. Fellowship leaders said the group offers great potential to advance the nursing profession.
"These fellows represent issues across the lifespan. Many are focused on health equity, prevention and optimal chronic disease management," said Heather M. Young, national program director and professor. "These are all such important topics, vital to advancing population health and bringing diverse perspectives to health care systems."
The program recognizes early- to mid-career nursing scholars and innovators and requires they take part in an innovative project or study. Fellows receive $450,000 over three years for their project plus $50,000 for their home institution. Fellows gather annually, when safety guidelines permit, at UC Davis for a week-long convocation and participate in an online learning community throughout the three-year period.
The fellowship, which runs for three years, is supported by a $37.5 million grant from the Gordon and Betty Moore Foundation. Roughly 10 fellows are selected every year for five years. It was launched in 2020.
The first cohort began amid the coronavirus pandemic, but the fellows were undaunted. Their subject areas range from advancing health equity through prevention and education and addressing caregiver stress in African Americans to technologies that support clinical decision making. Others are using telehealth with adolescents with neurological conditions and for remote forensic exams and web support for cancer treatment in underserved areas.
"They are risk takers and open to new ideas. They incorporate innovation into their work," Young added. "They have been flexible as they faced so many unexpected barriers and changes due to the pandemic. This is a vital attribute for successful leaders and scientists — being able to reshape in response to the environment."
Fellows focus on populations across the lifespan and their projects aim to address issues in prevention, health care delivery and education. The cohort has strength in health promotion, care for vulnerable populations and how to leverage technology to improve care.
The 2021 fellows include:
Dora Clayton-Jones, assistant professor at Marquette University,

Arthur J. Schmitt Leadership Fellow and president of the International Association of Sickle Cell Nurses and Professional Associates: Clayton-Jones' research focuses on interventions for adolescents and young adults living with chronic illnesses such as sickle cell disease.
Yamnia I. Cortés, assistant professor at the University of North Carolina at Chapel Hill: The goal of Cortés' research is to design interventions to reduce inequities in reproductive health and chronic disease, particularly in Latinas.
Rachel Lee DiFazio, nurse scientist at Boston Children's Hospital and instructor at Harvard Medical School: DiFazio's research is dedicated to exploring the wide variety of outcomes of orthopaedic surgery in children with cerebral palsy.
Roschelle "Shelly" Fritz, assistant professor at Washington State University: Fritz's research focuses on using smart health technologies to improve the timeliness of care for older adults with chronic conditions who also experience low socioeconomic status and decreased access to care.
Luz G. Huntington-Moskos, assistant professor at the University of Louisville: Huntington-Moskos' research focuses on developing environmental health report-back interventions designed for the adolescent population to support asthma self-management and prevention of asthma exacerbations.
Urmeka T. Jefferson, associate professor at Rush University: Jefferson's research focuses on breastfeeding interventions that resonate with the cultural and contextual traditions of African American mothers.
Lenette M. Jones, assistant professor at the University of Michigan: Jones' research uses neuroimaging to explore brain activity associated with behaviors, such as diet, exercise and medication-taking, and examines how health information behavior can be enhanced to support blood pressure self-management.
Adrian Juarez, assistant professor at the University of Texas Medical Branch at Galveston: Juarez's research focuses on improving HIV prevention intervention uptake in Latino communities on the border of Texas and Mexico.
Michelle L. Litchman, assistant professor at the

University of Utah College of Nursing and medical director for the Diabetes One-Day Education and Care Programat the Utah Diabetes and Endocrinology Center:Litchman's research focuses on optimizing technologies to provide culturally relevant, linguistically appropriate and geographically available diabetes programming to diverse underserved populations.
Kimberly Souffront, assistant professor for the

Department of Emergency Medicine and associate director for the Center for Nursing Research and Innovation at the Icahn School of Medicine at Mount Sinai Hospital: Souffront'sresearch focuses on improving recognition of asymptomatic hypertension, blood pressure control and adherence to follow-up care.
Applicants completed a rigorous review process. National program office leaders, along with members of the Fellowship National Advisory Council, ultimately selected a diverse group pursuing innovative approaches to challenging problems. The program forms a learning community among fellows, combined with a strong curriculum to build skills and confidence in leadership and innovation.
Faculty from the UC Davis Graduate School of Management contributed their expertise to develop the hybrid curriculum for the fellows, designed to enhance leadership and innovation capacity, strengthen strategic thinking and collaborative skills, expand professional networks and propel innovative ideas to fruition.
Applications for the 2022 cohort open Sept. 24. To learn more, visit the fellowship program webpage.