Lisa M. Badovinac, M.A.Ed.
Assistant Dean for Education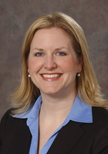 Lisa Badovinac is the assistant dean for education at the Betty Irene Moore School of Nursing at UC Davis. She is responsible for providing broad leadership and management of the educational mission for the school, including oversight of outreach, student recruitment, admissions, student records, educational technology, clinical placements, program development, accreditation and evaluation.
Badovinac was appointed to the assistant dean for education role in 2016 after serving as the education director for six years. She was closely involved in the initial 2007 grant proposal that led to the $100 million funding for the School of Nursing and also served as an executive analyst for Founding Dean Heather M. Young.
Throughout these positions within the School of Nursing, she worked closely with the school's leadership to support high-priority initiatives to advance the launch of the school, beginning with the development of the Nursing Science and Health-Care Leadership Graduate Degree Programs in 2010.
She also played leadership roles in transitioning the UC Davis family nurse practitioner and physician assistant programs to the School of Nursing as master's-degree programs, led accreditation reviews of the school's graduate programs with two accrediting agencies, led the assessment of prelicensure program options and then led many components of developing the new Master's Entry Program in Nursing.
Prior to her appointment with the School of Nursing, she was an executive analyst with the UC Davis School of Medicine Dean's Office. Badovinac was a software implementation training manager for UC Davis Health and a global training manager at Oracle Corporation. Badovinac privately tutors foreign exchange students and was an English teacher in Spain and Peru. She earned a master's degree in adult education and workforce development advocacy from CSU Sacramento and graduated from UC Berkeley with a Bachelor of Arts in Spanish Language and Literature.
Contact Information: Phone: 916-734-4271 | Email: LMBadovinac@ucdavis.edu