Sallie-Grace Tate
Assistant Dean for Advancement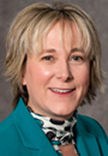 Sallie-Grace Tate is assistant dean for advancement at the Betty Irene Moore School of Nursing at UC Davis. An accomplished fundraiser with more than 16 years' experience, Tate provides internal and external leadership for development and alumni engagement, as well as cultivates awareness of the school's people, programs and impact in health care. Having joined the school in 2012, she works with health system and campus development leaders to generate the philanthropic support that will enable the School of Nursing to make a valuable contribution to the future of health care and generations of future health leaders.
Tate's experience and success as a major and principal gift fundraiser, as well as a skilled manager and leader of people and programs, enables her to drive a very young graduate school to new levels of aspiration and accomplishment. At the School of Nursing, she identifies opportunities that assist the school in raising its regional and national prominence to further facilitate acquiring resources, growing student scholarships and developing faculty endowments that will sustain the young school for the long term.
Before joining the School of Nursing, Tate served as regional director of development for the University of Rochester, where she generated philanthropic support from donors across the southeastern United States. While there, Tate successfully launched systematic initiatives to continually identify, cultivate and solicit new prospects capable of making gifts.
From 2007 to 2009, Tate guided development programs as vice president of advancement at Warren Wilson College. She restructured the development program at the liberal arts college in Asheville, North Carolina. She began her career in development as senior director of development for the College of Engineering at the Iowa State University Foundation. While there, she honed her major gift skills and secured several significant gifts, as well as initiated an executive-in-residence program where alumni executives' involvement augmented the educational experience for students and contributed to the strategic development of the school.
Before embarking upon her career in fundraising, Tate spent a decade in business-to-business sales and marketing. As a marketing executive with Poly-Bond, Inc., a manufacturer of non-woven fabrics, she managed two accounts with Fortune 100 companies with sales exceeding $70 million. She earned a bachelor's degree with a double major in history and communications from the University of North Carolina at Chapel Hill.
Contact Information: Phone: (916) 734-2783 | E-mail: salliegrace.tate@ucdmc.ucdavis.edu