Sarah Reed, Ph.D., M.S.W., M.P.H.
Postdoctoral Scholar
Specialty: Psychosocial issues in cancer survivorship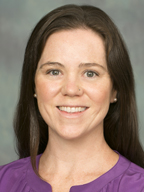 Sarah Reed is a postdoctoral scholar in the Betty Irene Moore School of Nursing at UC Davis, mentored by Associate Dean for Research Janice Bell. Her research focuses on vulnerable populations and issues of health inequality, including the effect of health transitions on mental health, particularly in cancer survivors.
Reed's ongoing work examines psychosocial concerns; specifically, fear of cancer recurrence and health behaviors in cancer survivors — addressing a significant gap in the understanding of the psychosocial health and related needs of the growing population of cancer survivors. She collaborates with a range of interprofessional researchers on projects aimed to improve health outcomes of patients with cancer.
Prior to joining the School of Nursing, Reed was an assistant professor in the Jane Addams College of Social Work at the University of Illinois, Chicago (UIC), where her work focused on cancer and issues related to racial, social and economic justice. She taught courses in advanced clinical practice and research. Additionally, Reed was an associate member of the Cancer Center, Cancer Prevention and Control Research Program and a senior research scientist at the Midwest Latino Health, Research, Training and Policy Center.
She has been a clinical social worker for close to two decades, most recently in the Adult Survivorship Program at the Dana-Farber Cancer Institute in Boston. There, Reed developed and managed psychosocial survivorship care and programs. Her professional experience also includes work in gynecologic oncology, end-of-life and hospice care, crisis psychiatric assessment and evaluation, and HIV adolescent case management.
Reed earned a Bachelor of Arts in Social Work and American Racial and Multicultural Studies from St. Olaf College in Minnesota. She completed a Master of Social Work, Master of Public Health and graduate certificates in Women's Studies and Maternal and Child Heath from the University of Washington and her doctoral degree from the Betty Irene Moore School of Nursing at UC Davis. As part of her graduate training, Reed was the recipient of several fellowships including Professors for the Future and the Maternal and Child Health Training Fellowship through the Maternal and Child Health Bureau, Health Resources and Services Administration, U.S. Department of Health and Human Services.
Reed has been published in Psycho-Oncology, the Journal of Cancer Survivorship, the Journal of Oncology Practice and the Journal of Cancer Education, among others, and her work received national media coverage from the Associated Press and NPR, among other news outlets.